Showing 1–12 of 208 results
Showing 1–12 of 208 results
Wetsuits
For you, is the warmth wetsuits provide most important? Or is it the performance you can achieve in cold conditions? Or both?

Warmth or flex? You don't have to dread the thought of a cold water surf or work out. We've got wetsuits that will give you enjoyment in harsh conditions while improving your surfing, swimming & triathlon performance

This seems like the unsolvable tradeoff.
A thick substantial wetsuit will keep you warm. But this type of wetsuit is limiting. You can't paddle or swim your best because the wetsuit is too stiff and heavy. Alternatively you can have a wetsuit that is super light and flexible, but you'll freezing.
Is there an answer?
Your Wetsuit
We have the wetsuit that works for you, for your specific surfing, swimming and fun or competitive sport.

Wetsuits come in all shapes and sizes, optimised for different purposes. Surfing, swimming, triathlon. We have wetsuits for warmth and performance, fun, and one that will speed your personal progress
For example you may only be able to surf or swim in the small window before and after work. Or you may want to always be at your peak performance. So you need a fast paddling wetsuit one that gets you into lots of waves or short distance swim sprints.
Or maybe you have plenty of time. You like to sit outside and pick off the bomb waves or swim the length of your beach. So you want a wetsuit that will keep you warm even when you're not moving too much or stroking hard.
For surfing there's advanced technology wetsuits that will give you the best of both options. If you're into triathlons, or swimming, there's purpose built wetsuits too with features to help you improve on your best.
Smooth skins, plush linings, enhanced surface textures, glide skins, buoyancy and super stretch panels – they're not just gimmicks.
There's lots of wetsuit options available and one that's optimal for you.
So to get the best check our range, talk with our experts who know all the wetsuit models and individual features. Finding out about your style and what you're wanting to achieve we'll be able to recommend the perfect suit.
Follow The Pros?
With a lot of aspects of surfing you can see what the Pros are using and copy it.
For example what are their fins? What boards are they riding? You can easily see these in event and media coverage.
However with wetsuits, when you see the Pros most they're heat surfing. They're only in the water for no more than 20 to 30 minutes. So they're not going to use a warmer, thicker, heavier wetsuit. They're going for light weight, super flex high performance. They're probably using a completely custom wetsuit too.
So if you can't get much direction from the Pros how can you get yourself a wetsuit to maximise your warmth, performance and enjoyment. Here's what to look for.
Big 4  Key Factors in Wetsuits

The 4 key factors in wetsuits are: Fit; Warmth; Flexibility; Features. You want these all at their optimum for your surfing or swimming, all working for you
Fit. Warmth. Flexibility. Features. These are the big 4.
Each of these aspects of your wetsuit is important. Each though has to be addressed in a priority order.
It doesn't matter if you're only going for a vest or springsuit. If you need to wear a wetsuit at all then these 4 factors are vital.
Fit comes first.
Your Fit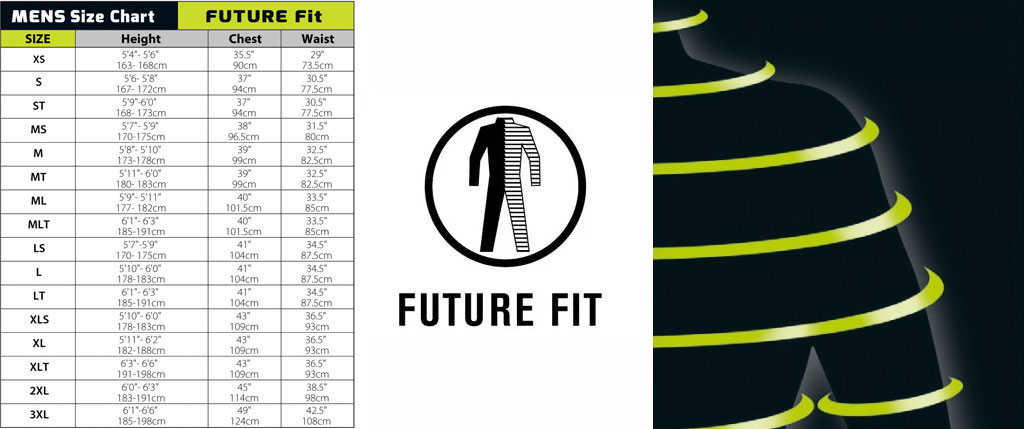 There's a lot of mid sizes in Wetsuits such as MS, MT, ML. This gives you an indication of the importance the big brands give to getting you the right fit. There's also fitting techniques such as Future Fit used by C-Skins where computer modelling goes beyond the basic numbers to give you the best match to your body shape
Fit is the most important consideration for your wetsuit.
That being said, when you try on a wetsuit in store you don't want a good fit. It has to be a snug tight fit.
This is because the way a wetsuit works is to allow a thin layer of water to enter between your body and your wetsuit, and warm it. If your wetsuit has loose areas then the water won't be retained, it will flush out. You will quickly chill. Also loose areas of your suit will also give you rash.
So your wetsuit fit has be very snug. If you're hot when you try your suit on in the shop this is a good sign. Once in cold winter water your body will shrink a little and after a little use your wetsuit will loosen up too giving you optimum fit.
It's vital to try your wetsuit on. Even though there's size charts, wetsuits have different cuts the effects of which only become apparent once the wetsuit is on. For example Rip Curl typically has a shorter cut in the body than Billabong and C-Skins wetsuits. So if you're longer in the body, taller, then you'll get a gape at your lower back and crush on your crotch.
Getting a wetsuit with the fit right for you is number one priority. So try it on.
Warmth & Flex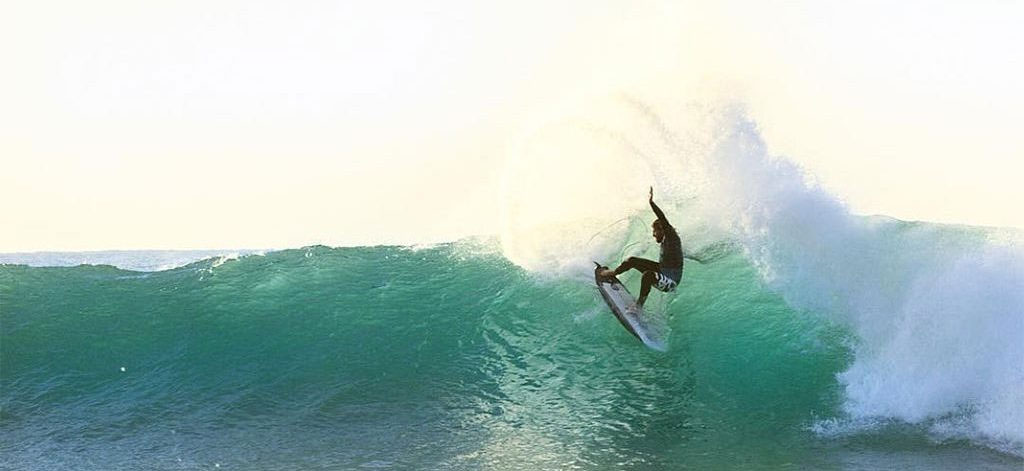 This is what you want. Warmth to be out there keeping your body at its optimum performance so you can throw big power moves
Your warmth and flex come next. Both primarily come from your wetsuit's neoprene. The latest neoprene is different than that used in previous generation suits so make sure you check the information below.
It used to be said that a thicker wetsuit would be warmer. The trade off being it would be heavier and less flexible.
Things have changed.
Thicker suits are warmer – when comparing within the same brand and model range. So a 4-3mm thick C-Skins Hot_Wired will be warmer than a 3-2mm Hot_Wired.
However comparing across suit brands is not so straight forward. For example a high tech thicker neoprene can be much lighter and flexier, giving you much better performance than a cheaper thinner neoprene.
There are different quality and technology neoprenes used. You can't rely on the numbers like 3-2mm, 4-3mm comparing between suits. A 4-3mm wetsuit in C-Skins will be lighter, have more flex and give you both greater warmth and performance than one with a cheaper 3-2mm neoprene.

Neoprene is full of air bubbles. Air is light so more air means you get less weight even if the neoprene looks thicker. Air also insulates so more air means more warmth. Air does add thickness, so thickness isn't necessarily bad. Some brands go a step further than adding air, like C-Skins. They add special linings to their neoprene to reflect the cold out and the warmth in
Don't dismiss a thicker wetsuit as it's likely a sign of high quality neoprene. Check the weight. Hold the thicker suit in one hand and thinner in the other. Which is actually lighter? Which heavier?
Neoprene quality is important too as even though it may be hard to test and see with your naked eye. Better quality will equate to better flex. This means faster paddling out and onto the waves. It means catching more waves. Greater freedom for you to do big moves. Crouching for the tube. Exploding on the face.
High quality neoprene will also be resilient. This means it will return to shape, time after time. Cheap neoprene quickly bags out becoming loose losing all the benefits you want.

Neoprene linings are used in all the high end suits however they can impact flex and warmth negatively. The no lining price value suit can still work great for you
Most wetsuits will have at least one panel with a plush extra warmth lining. All the high end suits have linings and the way your wetsuit is priced is often in terms of the amount of lining used. For example the more expensive top end wetsuit has lining on every internal panel. The next price point down will have lining removed from the arms and lower legs. The least expensive wetsuit may have only the back panel lined or no lining.
So are linings good? As mentioned above a wetsuit works by warming the water between the suit and your body. If the lining isn't done correctly, if it doesn't retain water and too quickly 'quick dries' even while you're in the surf, it will cause water to run out and not stay in place to be warmed. So you can feel cool even with a thick linking.
The lining can also add bulk. So plushier is not better.
Top brands are moving to finer linings, away from the bushy nylon look.
Having no lining, just the neoprene without any fleece as on a price value model in a range, can still work great and should not be discounted.
Zip or No Zip

Zipless, that means no zip, has been considered the highest performance option as there's no plastic to constrain your movement. The Front Zip is considered to give best fit. The back zip gives the best ease of entry and exit
Zipless wetsuits were considered the best, most flexible suits. That's because there's no plastic in the body of the suit to limit flexibility.
There's been a change recently where some brands no longer offer zipless wetsuits. So the benefit of flexibility may not be considered to outweigh the problem of getting the wetsuit on and off. This is not always the case as it depends on the design. However the other closure options available in wetsuits, the Front and Back Zip, are much easier to get into and out of. Of these the Front Zip gives the best fit as it gives closure across the front of your chest. The back zip has to bend all the way from the inner contour of your lower back to the bulge of your shoulders to the arch of your neck. This bending lets in water.
Other Features

Smoothie panels have improved and in the best suits are applied over the neoprene. Panel cut is another important feature. ION's Gull Wing cut shows how good design can greatly enhance your paddling. There's also embossing and moulding to enhance your surfing in areas like the popup and getting the suit to dynamically move with you
Features are not all gimmicks. The features you find in top line wetsuits can add a lot of benefit when done well.
Smoothie panels add warmth. They deflect the wind and reduce wind chill. This means they stop the wind creating an evaporating cooling effect on the outside of your wetsuit by replacing the water retaining nylon outer with a rubber like surface that doesn't retain water and actually deflects the wind. Once again this smoothie features has to be done well. For example C-Skins is now applying smoothie over their neoprene. This gives a much more robust finish that both more effectively deflects the wind while being stronger. This overcomes the biggest problem with the older style smoothie where you can easily put your finger through it, rip or cut it.
The cut and design of panels makes a huge difference mostly in your paddling. There's raglan cuts, this means off the shoulder, and also the Gull Wing. ION's Gull Wing gives extra stretch directly in your shoulder movement. So as one arm moves forward and the other back the panel stretches forward on one side while releasing backwards on the alternating shoulder. A great idea.
Embossing and moulding are features that help reduce bulk. This is valuable for your knee popup. They also makes the neoprene dynamically support your movement rather than pulling against you.

Strategically placed panels add features that make a huge difference. Core Lateral Stabiliser panels and Aerodome bubble tech, Low friction glide skin keeps you going faster maximising power with each stroke. Floatation panels correct posture improving your body metrics
Core Lateral Stabiliser panels, Aerodome bubbles, Glide Skin are all valuable features that help overcome obstacles encountered in getting you the maximum performance in the water. From getting your suit on and off faster when every second counts in a triathlon, to improving your posture so every stroke takes you farther, faster there's very worthwhile features to check out.
Accessories
Accessories can give you more protection from the elements if needed. The  Beanie has replaced the hood. It's not as constrictive, gives you better visibility and hearing, while still limiting heat loss and improving warmth. Gloves come with extra grip and can be super responsive in 2mm thickness. Booties can be the best first line accessory as they keep your feet warm on the run down to the surf preventing cold getting a hold
Accessories turn your cold water surf from a 'braving the elements' experience to an enjoyable one. From booties to beanies there's new generation ways to make your surfing fun while also keeping your body at its optimum maximising your performance.
Check out what we've got on offer.
Hybrids

Hybrids give you what you need for maximum performance. They give you fine tuned warmth in your upper body with 1mm smoothie neoprene. In your lower body lycra gives you extra flexibility. 1mm all over suits with smoothie act like a second skin, a barrier between you and the elements
In other areas that involve keeping warm in the water, wetsuits have been rapidly evolving. In triathlon and swimming you can get wetsuits that give you the best in neoprene for warmth while giving you unbelievable flex. They do this by combining a hybrid of materials.
For example Orca use 1mm smoothie neoprene on your upper body while giving you lycra for maximum performance in your lower body where freedom of movement is paramount.
There's also incredible 1mm all over smoothie suits that act like a second skin. If you're into any sport that needs warmth in the water check out our wetsuit range.
Wetsuits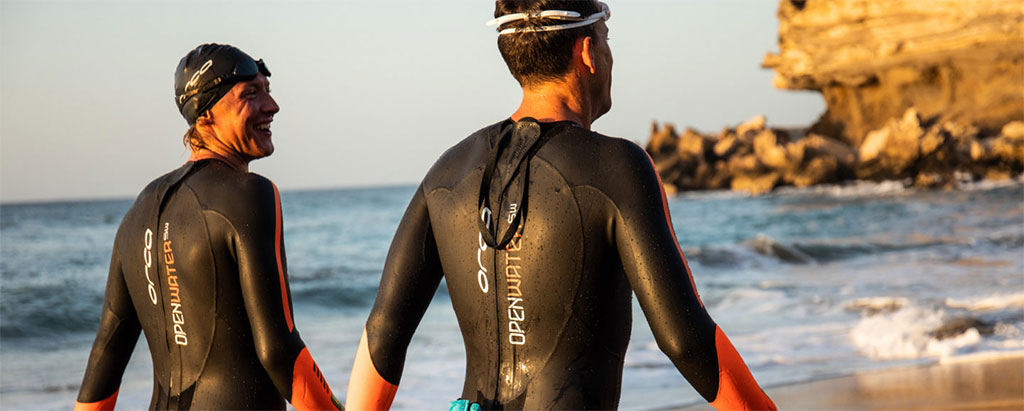 Give yourself the edge. Turn cold water dread into motivation. With your wetsuit you won't be missing great sessions because of the cold and likely might be finding your best

In our online store you a great overview of what's available. Coming in store you'll get insight that you can only gain by feeling, stretching, and most importantly trying on the wetsuit that will give you the most fun and performance.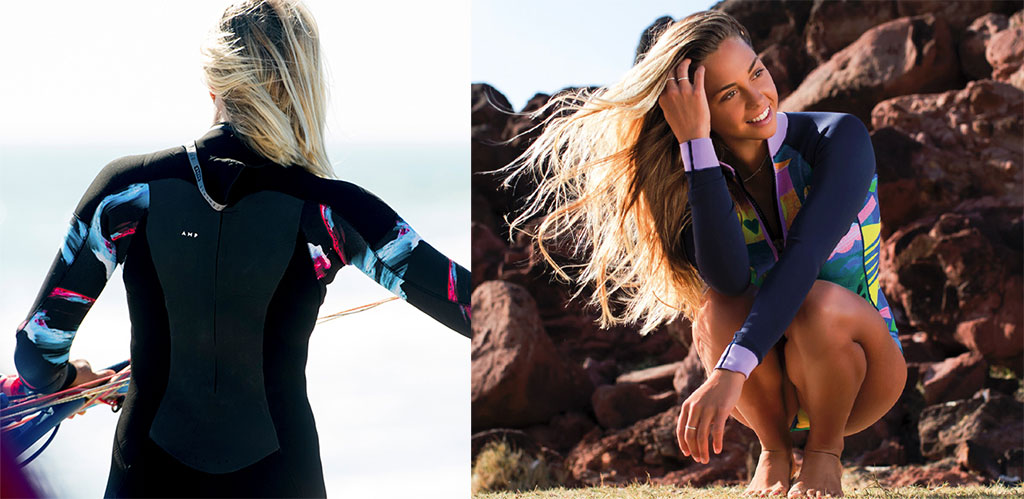 Whether its for hard core surfing or to have fun, we've got the perfect wetsuit for you and your whole family.
Get into your optimum wetsuit.