Showing 1–12 of 47 results
Showing 1–12 of 47 results
Womens Wetsuits
For winter we offer you the latest Womens Wetsuit Steamer tech to give great paddling and extra warmth for maximum performance because you have to be warm to perform. For your mid-season and summer you've got UV sun protection, and comfort in the early morning and late chill, covered by our great Womens Spring Suit range. So whether its a Womens Steamer, Womens Spring Suit or even a Womens Swimming Wetsuit, all are perfectly optimised and specialised Womens Wetsuits.

Above, your surfing may be single fin cruising on your mid-length, mini-mal or longboard. Below, it may be high performance carving and barrel riding. If you want to maximise your surfing enjoyment and performance you need your body to be warm and comfortable, not cold. To get that you need a great Womens Steamer or Womens Spring Suit wetsuit that works for you. The two featured surfers are C-Skins Team Riders Corinne Evans and Sophie Fletcher. C-Skins knows what works

If you can, come in store and check out our wide range of wetsuit options. As new technology is implemented into wetsuits each season, so fitting and performance options constantly improve and change.  So you need to try the latest season's suits on to check your fit.

In store we've a wide range of brands, styles and technologies so you get the wetsuit that works for you. Above are Womens Steamer wetsuits for surfing from, left to right: ION, Adrenalin, C-Skins, Reeflex and Ocean & Earth. Below is an overview of our Womens Swimming Wetsuit range. With advanced neoprene that is around 1-1.5mm thick they also incorporate high-tech buoyancy and super flex panels. Note the bright orange of the first Womens Swimming Wetsuit isn't a fashion statement. It's to give you high-visibility in open ocean swimming. These suits are from our Womens Swimming Wetsuit range including Orca and Zone3

A style of suit, a zip option or thickness you previously may have discounted may now offer you higher performance and easier surfing with greater comfort.
New Tech For Better Fit

The images above give you an indication of some of the key factors you can only assess trying on your wetsuit in store. From left to right: Having a plush fleecy interior can give warmth, it can also add bulk and weight; Zip placement and zipless options have to be experienced for comfort and ease of use; Does a features like a smooth neck glide or stick; Does the suit come together to give you great fit across your lower back, shoulders and crutch?
Is new tech always better?
Have you tried a zipless womens wetsuit? Did it live up to the hype? Zipless suits are considered the easiest to paddle in, to surf in, and give you the best fit. This is because the stiff plastic zip is removed.
It's not there so: there's no restriction to your crouching and body torsion, there's no zip teeth letting in cold water; there's no straight stiff section that doesn't fit against your lower back risking potential back strain. It's also not adding bulk across your chest, pulling against each paddle stroke hindering your arm movement.
Above, for mid season a Womens Spring Suit is a must have. You will in fact do most of your surfing in them as there's only one Winter for your steamer yet there's two mid seasons, one between summer and winter and another between winter and summer. There's also cooler summer and warmer winter days where a mid season wetsuit is the perfect option. They free you legs and arms for greater performance and are much lighter overall. Suits are left to right from: Ocean & Earth, C-Skins and Roxy. Below, Adrenalin is an Aussie brand that makes great wetsuits. Note their Wahine mid season suit has a smooth flow of neoprene in the upper body. This equates to great paddling performance, comfort and fit

Even though zipless suits overcome the major zip problems zipless suits have not been overly popular as they're considered the hardest to enter and exit. If you're in a hurry to get into the surf before work or because conditions are great, a zipless suit will take much more extra time and care to get each part of the wetsuit into position so you can wrangle your upper body in. Or if you're zipless wetsuit is still wet from your last session, you can find it almost impossible to get it on – even with a slide-on aid.

European brand C-Skins develop their own incredible materials to give you incredible results in the water. Above, Halo RD8 incorporates metal layers so you get next level insulation. The metal reflects cold out away from your body and reflects your body heat in
Things are changing though and new season wetsuits incorporate features like GlideSkin, internal to the suit. This is a feature brought over from triathlon wetsuits where making a fast change is vital. It makes the suit glide on, preventing it sticking to your skin. Also neoprene continues to get flexier and finer. So the zipless panels you need to stretch to enter the zipless suit are now even easier to work with, even compared to last season's Womens Wetsuits.
So is a new tech zipless suit the best option for you this season?

The paddle out is one of the big things you need your Womens Steamer to be good at
So if you want to get right the most important feature of your wetsuit, the fit, come in store and see which suit works best for you.
Local & European Feature Sets

Another European brand, ION, along with plain black wetsuits, give you not only a wide range of colour options but also a range of Womens Wetsuit cuts to match your own personal style, surfing freedom, and the look you want in the water
Another benefit of coming in store is that you get to check our full range of Womens Wetsuits. This includes leading brands like Roxy and Ocean & Earth as well as European brands. These international brands give you several benefits. As the bulk of the surfing is in colder water the suits handle the cold exceptionally well while giving you great performance. They also bring in new technologies like Dark Matter panels and have great style.
These European brands know all about the highest level surfing performance needed on the WSL World Tour. For example Aussie Charger  Wade Carmicheal is sponsored by C-Skins. C-Skins also sponsors a number of Female Surfers whose pics are featured in this article.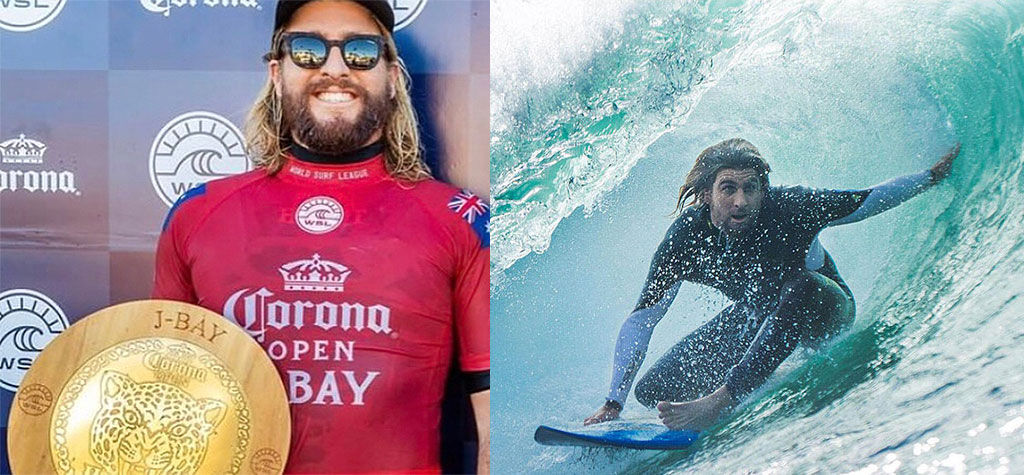 Above, C-Skins Wetsuits sponsor Aussie Wade Carmichael on the WSL World Tour where Wade chargers in their suits. Below, wetsuits and lifestyle go hand in hand. Another C-Skins Team Rider Georgie Timson


Above and below, two aspects of the style of our wetsuit range that will have you looking and performing on land and in the water