Showing 1–12 of 38 results
Showing 1–12 of 38 results
Softboards – Foam Surfboards – Foamie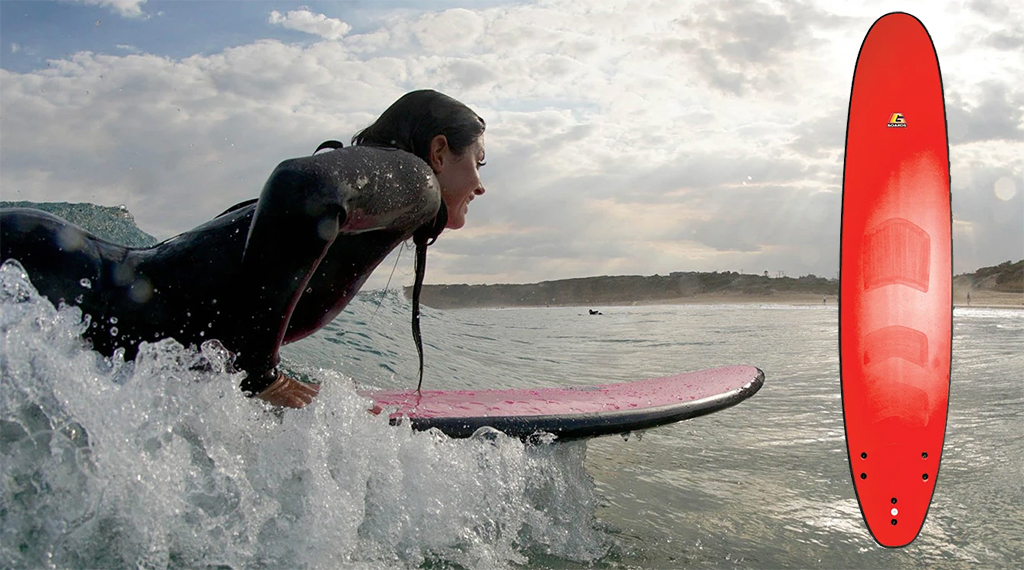 Above, Softboards are great for learning. If you get your right sized Softboard in the right size waves it's almost impossible not to immediately stand up and start surfing. Below, Softboards also have performance versions. These are shorter with more advanced features. Once you've started surfing you can do more performance moves on these. Even Advanced surfers have a Softboard in their quiver for special conditions

Softboards are ideal to start your surfing, they're great for Beginners. What makes them so good and what's best for you? There's also performance models, Softboards great for Progressing and Advanced surfers. What's the difference? Let's check them out.
Best for Beginners

The soft top or deck of a Softboard is what makes it a Softboard. On the left is a close up of the deck which is a soft foam. You can press it in with your finger yet it's quite robust. It's got a surface texture that helps your feet grip so you don't necessarily need to wax your Softboard. On the right you can see a roll of the plastic that's used on the bottom of your softboard. This is identical to the bottom slick on a bodyboard. It's a smooth plastic that gives you speed
It's the soft top or deck that makes a Softboard different from a normal surfboard. The soft deck is similar to that on a Bodyboard. It's a soft foam overlaid on a harder foam core. It makes lying and paddling on your Softboard much more comfortable than on the hard deck of a fibreglass board. If you've never surfed, lying on a board can get very uncomfortable very quickly. There's also the chance of rash from your skin rubbing on the board. While a t-shirt, rash top or wetsuit will reduce rash, if you're not used to paddling you will have discomfort. A Softboard greatly reduces discomfort with its soft foam deck and helps you get surfing.
You're going to get the inevitable wipeout. On a Softboard the odd bang or bump is much less harsh than on a fibreglass board. This is a big factor for you, your partner and kids you may be introducing to surfing. A bad bump can turn a super fun experience into something not so fun. With a Softboard's softness you're maximising the fun factor and minimising the risk.
The bottom of the Softboard is like that of a Bodyboard. It's a stiff plastic called a slick. It's smooth and fast giving you speed on the wave. The plastic is also a softer material than fibreglass so risk is reduced.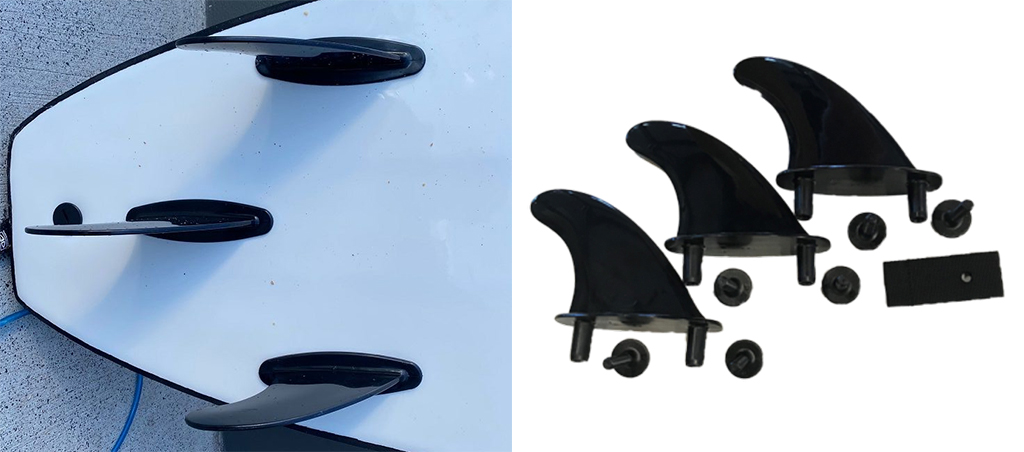 The fins commonly included with your Softboard are soft plastic. They can be glued or screwed into your board. The soft plastic is good when you're a Beginner as if you get a bump any impact is reduced. Also if your fins hit the sand or a rock they'll likely not be damaged and neither will your board
Fins are often included with Softboards and on the Beginner Softboards you get soft plastic fins. These bend, which isn't so great for performance surfing, but is good if you run your board onto the sand as they won't break or wreck your board. Soft fins also offer a safety factor as a bump from them is not as bad as from stiff fibreglass fins. Depending on your Softboard you can upgrade the fins as you progress.
Softboards also often include a leash plug so you can have the safety of the board being with you. If your board doesn't have one as standard we can add one for you in-store.
Durability

On the left, beneath the blue outer soft skin there's layers of strengthening material over the thick inner foam core. In this Ocean & Earth Ezi Rider Softboard there's two substantial internal wooden stringers. These give strength and durability along with helping keep your board in its intended shape, ie a shape that goes fast. On the right you can see the external black edges around the G Softboard. This is a soft yet super durable material. It covers your rails nose and tail giving extra protection and durability to your board. This inbuilt protection will make your Softboard super long lasting
In the same way a Softboard is good for you as Beginner, a Softboard's materials make it durable. The soft foam outer will not damage as much when it gets banged, the foam absorbing the impact. The slick bottom is pliable plastic so if your board is dropped on the sand or even on rocks it won't break. One of the things that sets Softboard brands and models apart is their overall durability.
The quality of the materials will make the difference between a board that lasts for one season or longer. The foam core can't be seen, it's inside the board. However the cores are often reinforced to give strength. This reinforcement is called a stringer, like that used in a normal surfboard. The stringer guards against your board overflexing, losing it's high speed shape and breaking. They're normally made of wood but exotic carbons and epoxies are also used. So you can get an idea of the strength and longevity of your board depending on if it has a stringer and how many.
It's also worth checking if there's any reference to UV resistance in the board specification. For example, if left out in the sun or in a hot vehicle most surfboards will start to have problems with bubbling, warping, delaminating. The same is even more true for Softboards as they're all glued together and the seams are exposed to salt water.
The ends of the Softboards, the nose and tail, are also prone to damage. As a Beginner not used to carrying a long bulky object, these are most vulnerable. So it's worthwhile getting advice in-store about which models stand up well to use.
Budget can reflect quality of the board. If you're after a Kids Softboard that you only want to last a few surfs over summer then budget can be low. If you're after a Beginner board to get you started with a good design to get you surfing fast with fun, or a more performance oriented board, budget will be higher.
Mix It Up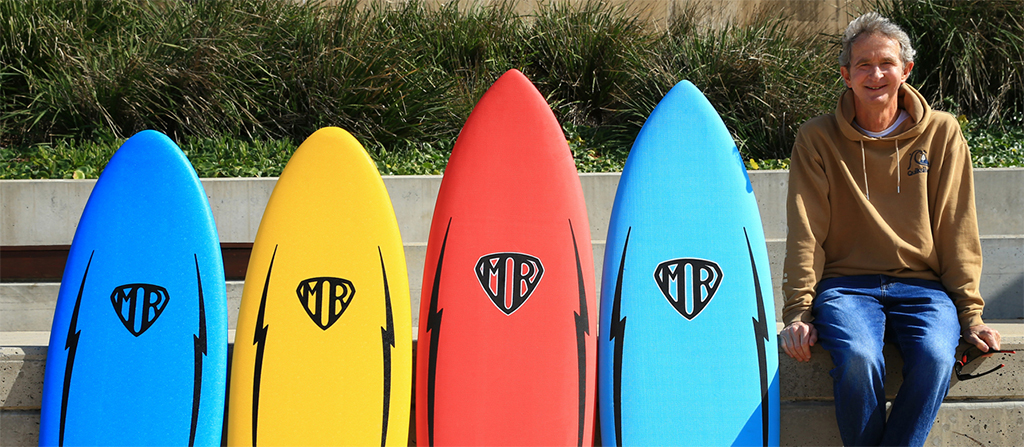 Mark Richards, 4 times surfing World Champion with some of his designs for Softboards in the Ocean & Earth Ezi Rider range. Note the nose and finish of the Softboards. Smooth, rounded looking very much like normal surfboards. Mark's designs incorporate Pro features in the Softboard construction to give you a super fun ride. The Ezi Rider range can be used by Beginners all the way through to Advanced surfers
If you're a Progressing or Advanced surfer it's now normal to add a Softboard to your quiver. Advanced Softboard shapes can be ideal for small-wave groveling or performance surfing such as doing big carves and airs.
Mark Richards, 4 time World Champion, and Mick Fanning, 3 times World Champion, are two notable surfers who have more performance oriented Softboard ranges. From long-time Softboard brands there's also performance models refined to give you great performance surfing.
Enhancement

Fins radically change how you and your board perform. Changing soft Softboard fins for stiffer fins will immediately give you more drive, speed and control. As soon as you're at the stage where you can proficiently stand you will feel the difference in your surfing. On the left we have Future Fins DHD model. DHD is a shaper for many surfers on the World Tour so these fins will give you elite level performance. Note these are single tab, that means they have one long base tab. Next Ocean & Earth Speed Series will give you speed. Note these are dual tab, they have two tabs on the bottom. The next fins are Futures Twin Fins. These are single tab fins with a big side fin with smaller tail fin and give you another feel to your surfing. On the end is a new addition to Softboard surfing but that's been used in Longboards for a long time. This is a 2 + 1 setup with a large single rear fin and two intermediate size side fins. This gives you longer drawn out turns & cruising surfing
One of the first things and about the only thing you need to do to enhance your Softboard performance is to change your fins. Most performance Softboard models have a fin box setup. This will allow you to change the fins. The fin setup can be Thruster 3 fin, Quad 4 fin, or even 5 fin. This gives you great options to mix up your surfing and try new things. You can run your performance Softboard as a Twin Fin, only using 2 of the fin boxes, giving heaps of speed. Or as a Quad you can charge gnarly shoreys or bigger waves.

To be able to use the fins described above you need to have one of these type of fin boxes in your Softboard. On the left is the single tab. Middle are dual tab boxes. At the end the 2 + 1 setup

Above is an Ocean & Earth Ezi Rider Flying Fish Quad Softboard. Note the 4 fins. This will give you very distinctive surfing, fast with lots of drive. However a 3 fin Thruster setup as found on most Softboards is the better place to start
Other enhancements or accessories can include a board bag. This is always a good idea to protect and extend the life of your surfboard. A Softboard will maintain it's life when kept in a bag. A bag is also handy for transporting in a car, stopping salt and sand contamination.
Some surfers use wax on their Softboards and others don't. You may find the soft deck is grippy enough so you won't even need to add wax. Similarly it's rare to see a Softboard with deck grip as the natural deck is grippy enough.
Different Shapes & Types

Without doubt getting a Softboard that has this type of shape will give you the easiest and fastest start for your surfing. This is a proven great Beginners Softboard shape. If you have a small body type then go for a smaller size of this shape. If you are a big body type go for a bigger size of this shape. In-store we can match you to the perfect sized board to progress your surfing
What type of Softboard should you get?
The different shapes of Softboards reflect their uses.
If you're an adult and new to surfing and want a Beginner Softboard then its best to go for as big a Softboard as you can. The shape like a big Malibu or Longboard with a full wide nose and a lot of thickness is best. This may be bulky yet will give great floatation, be easy to paddle and easiest to stand on as it's stable. Once standing you can start to direct the board in turns. This type of board will give you lots of fun and you'll progress rapidly. You can always trade-in this type of board in-store for a more advanced model.
If you're after a Kids board then there's smaller kids size boards ranging up to those great for teens. Their shape should be always a big bigger than a normal surfboard for the same size child. The extra area and volume helping with paddling and stability. Softboards come in all different finishes including radical patterned models so you can find a board to match a child's personality.

For Progressing and Advanced surfers there's a wide range of Pro-style and unconventional shapes that will really mix up your surfing and give you a heap of fun. Your Softboard gives you the ability to catch waves you previously just could not get on. You can catch shoreys that pound into the sand without worrying about your hard fibreglass board hitting you. With your Softboard all is good and all is fun
As a Progressing surfer you have a great Softboard selection available. There's short stubby ones great for the shorebreak or those designed by the Pros for high performance. The features to look for are the fin system, and the stringers. With the fin system you can add new fins, the stiffer the better. Also adding bigger fins can give you more drive. Having several stringers will keep your board in its high performance shape. With only a foam core and no fibreglass outer your Softboard can tend to over-flex. So the stringer will keep the performance.
As an Advanced surfer you likely already have a good idea what you're after. As there's new models and new tech always coming out it's worth making contact or having a check in-store to see, feel and discuss the latest and greatest.
Fun Factor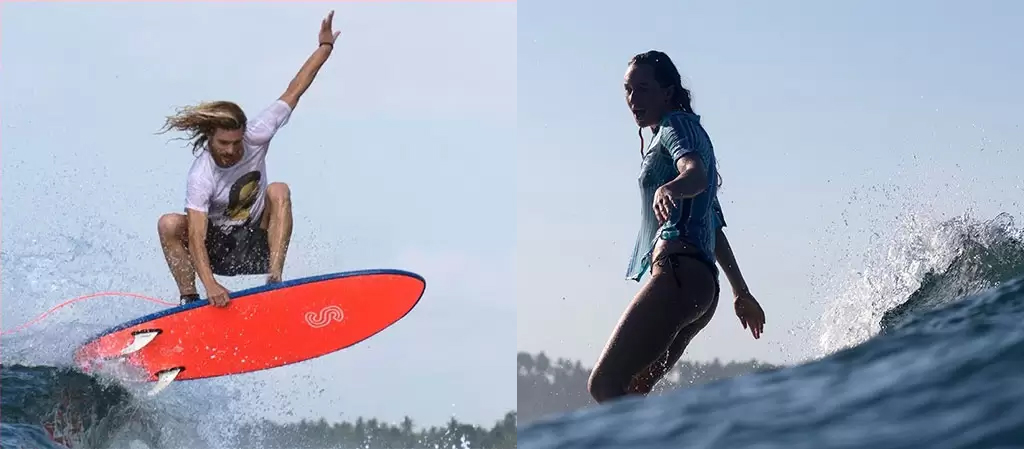 Your Softboard will give you some of the most if not the most fun surfing. To make sure you maximise the goodness of this experience get yourself the right Softboard. We're available in-store with a huge range to get you your right board.