SUP Bags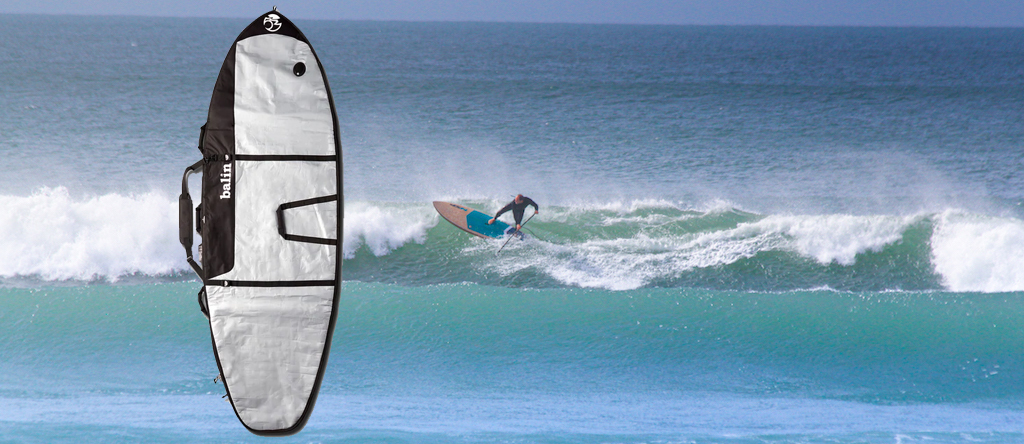 Your SUP can take what the ocean can throw at it. However wax on the bottom and rails can reduce your performance. A drop or hard bang can create a crack reducing overall strength and integrity. A crack, no matter how small can let water in starting to waterlog your SUP. Also with all it's area your SUP brings with it a lot of sand and wet to your car. SUP Bags give you protection along with a great way to transport your SUP keeping it and everything else, like your car, safe and tidy too
SUP Bags are a vital part of your Stand Up Paddle boarding. They may seem like an option, that you don't really need one as your board is heavy duty built to take everything the ocean and outdoors can throw at it. However your board has more weight and is bulkier. It's bigger form factor is more likely to get bangs and bumps. Those bumps will be stronger due to the momentum and swing movement of your board.
Your board's extra area also brings more water, sand and soggy damp grip into your interior or onto your car roof. So a SUP bag takes care of that, containing it all. A SUP bag also gives you extra features like easier and more versatile carry options and pockets for all your SUP gear, like fins, leash, even a strap for your external paddle. For local and especially longer distance travel, SUP Bags are a necessity.
Sizes

Whether your SUP is a traditional shape like the NSP Elements Cruiser above or a modern surf SUP like the ECS Weapon X2 below, there's SUP Bags to fit. You can't just grab a Longboard or Shortboard cover for your SUP as it has a much wider width. Both these SUPs are 30″ or more in width and no surfboard cover will fit

SUP Bags come in sizes to match your SUP. Like surfboards, you have to check the length of your board and get a bag to match. Always go for a few inches extra in length, up to 6 inches longer, as the extra space will ensure the fit around your zip isn't too tight and the whole closure process is fast and easy.

Unlike surfboards that have shapes such as Longboard and Shortboard that are within several inches width across their range, SUPs can vary a lot between traditional and flatwater SUPs and surf SUPs
There's a few important aspects to watch out for. Unlike surfboards that have obvious types, such as Longboard or Shortboard with corresponding widths within a few inches of each other, and board bags to match, SUPs can have widths ranging from the mid 20 inches to mid 30 inches. That's a 10 inch difference that no SUP Bag can accommodate. So check your SUP width and get a bag that's no more than 3 inches wider.

Perfect fit? SUPs require bags that fit their shape as closely as possible. If your board is loose in your bag it becomes problematic to carry it as it's always shifting around. Also this shifting around inside the bag increases the damage from any impact that may occur. On the left is the Balin SUP Race Cover that fits a Tourer perfectly. On the right is the ECS Wanderer SUP
SUPs also come in a few unusual formats, such as the Tourer with a shape more like a surf ski than SUP. It a normal SUP bag it thinner nose will leave a lot of bag flopping around and board shifting around inside it. This increases the likelihood of damage from impacts as well as making your board harder to carry. So check you get a bag that matches your SUP shape.
Covering & Padding

SUP Bags have tarpee outer, a silver relfective material that's water repellent and tough against puncture and impact. This outer layer covers 5mm of dense foam that absorbs impact energy and dissipates it. Internally there's another layer of tarpee that gives your board a smooth glide within your bag
All our SUP bags come with 5mm padding. This is a heavy duty dense foam that's designed to protect your SUP by absorbing impact. Impact is deadened, the energy dissipated into the surrounding foam rather than being transmitted through to your board. The foam gives you protection from all day-to-day level incidents.
The SUP Bags we offer are made with a reflective tarpee outer, with non-relfective tarpee inner. The tarpee is a woven plastic that is extremely durable. It stands up to sharp impacts as well as abrasion.
The reflective outer makes a big difference reducing the heat that can accumulate inside your SUP bag. Your board stays noticeably cooler. This is important as though most modern SUPs have a breathing valve inbuilt, some do not. Excess heat can cause big problems. The reflective tarpee is also waterproof. So even if it gets wet from your board or from the rain, the wet will run off. You aren't carrying any extra weight or that wetness into your car.
The inner lining tarpee provides smooth sliding for getting your SUP into and out of your bag. It's important process of getting your board into and out of your bag is as easy as possible as you're normally doing it single handed. One hand holding open your bag the other pushing in your board.
Some bags have extra protective covering added to your bag at the nose and tail. These are the most vulnerable points on your SUP, most likely to receive impact and abrasion. So this extra padding greatly increases your board protection and bag longevity.
Zip
The zip is the first and most likely part of your bag to fail. This is because it's a long zip that's easy to bend and kink. It's easy to get small bits of blockage in it, such as wax, sand, twigs. A cheap zip can also corrode from saltwater, stick to itself and not open if left unused.
Not all zips are created equal. There are differences in the zip brands, and sizes- reputable brand and bigger headed zips being better. So all the bags we provide have great zips.
Carry Points & Straps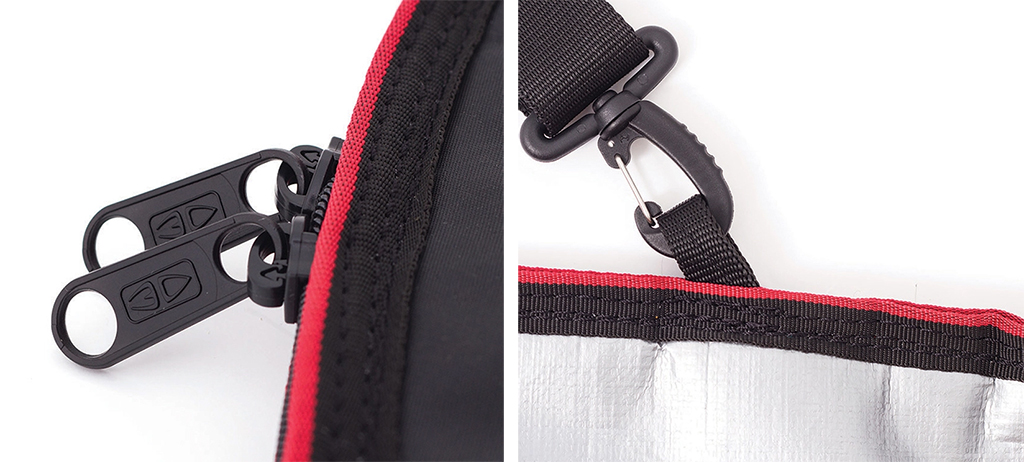 You can tell a lot about the quality of SUP Bags from their fixtures and carry points. These are prone to failure. It they look rugged it's likely your bag will last. If they also look well crafted and designed then it's likely your bag will be a great functional surf accessory. These are the zipper heads and shoulder strap fixture point of the Ocean & Earth Barry Basic Stand Up Paddle Board Cover
While all our SUP Bags have the same amount of padding, some have been constructed with a heavier duty approach. You can immediately see extra areas of reinforcement, support and protection that leads to a stronger more substantial bag overall. A lot of this support is centered around carry points.
You can tell the bag quality almost by the carry points- hand carry, a shoulder carry, and extra grab points. For example a grab point on the nose or quarter length points can be especially handy at the airport check-in or even when trying to pull the wrong end of your board out of your car. Some bags also have carry points for your paddle. This makes one less thing to have to carry in your  hand, leaving it free for travel documents, phone, or other.

While we're talking about carrying your SUP- If you are taking your SUP any distance, or are finding it's a bit of a load, then this is a great option. A trolley that can fit two SUPs making it easy to wheel it to the beach
Make sure all your carry straps are well padded. Your SUP has a lot of weight and extra padding in your hand handle and shoulder strap helps you go the distance with ease.
Fin Slots, Boots & Pockets

The Ocean & Earth Barry Basic Stand Up Paddle Board Cover gives you all the basics and more. Check the extra protective areas on the nose and tail. These are your two areas most prone to bangs and abrasion. The middle of the bag features a slot so you can reach in and use the SUP carry handle – if more convenient for you. The rear features another slot, for your fin. So you don't have to remove your long single or 2 + 1 fin
SUPs can have several different types of fin setups. These can be Quad through, 2 + 1 and Single Fin. 2 + 1 being the most common. The difference between the fin setups is their height.
So most SUP covers naturally have extra area around the tail called a fin boot. This is an area where an extra gusset is added allowing your bag to expand and fit all your fins. In this way you don't have to remove yours fins to get a good fit, and easy entry and exit to your bag. In this way your board will fit with Quad and Thruster setups just not the single fin or the 2 + 1 setup.
So SUP bags have fin slot, a long hole in your bag through which your longer fin can stick out. So you don't have to take your rear fin out. The slot has velcro on either side so if not used it stays sealed.
A slot can also be used in the center of your bag corresponding to the location of your SUP's own carry handle. In this way you can insert your hand to grab your SUP's own handle. This slot is also velcro sealed when not in use.
Pockets
Pockets are a great accessory. Inner pockets are used to stash your fins, leash, wax, anything you may need. Outer pockets are also super handy. When travelling getting in your last minute surf you may not have the time to dry your wetsuit. In this case you can pack it into one of your bag's outer pockets and it will dry in transit, ready at your next destination.
Your SUP Bag
Your SUP is a big board and a big investment. It will protect that investment, give you carry and storage options, and keep  you having great surfs. We've got the perfect SUP and SUP Bag for you.