Softlite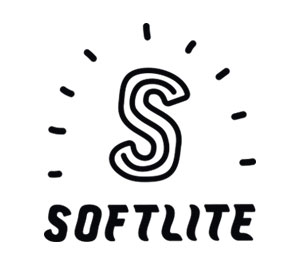 Softlite Softboards
Softlite Softboards are a great way to start your surfing. If you're a Beginner you get an easy and safe start with quick progression. If you're already a surfer they're a great way to go crazy and mix it up. On a Softlite softboard you'll get the best of any surf conditions. When it's small and junky you can go to a whole new level of surfing fun. When the waves are good you can charge.
Softlite are especially good softboards as they're designed and made by top Shapers and Surfers. From their construction through to board design and model range you'll get a surfing experience you won't find from any other softboard.
Let's check out Softlite softboards.
Softlite Construction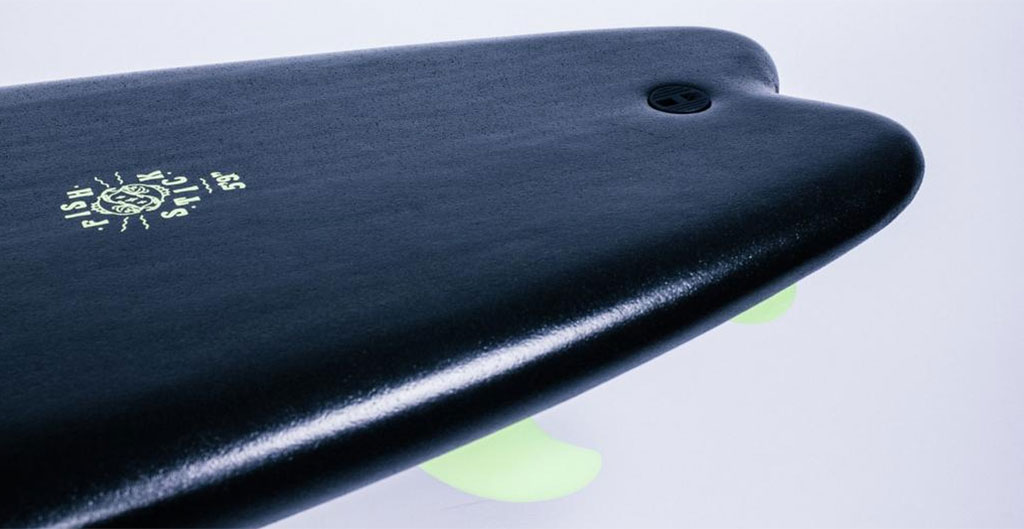 The deck of the Softlite softboard is clean of any protruding plugs or fin screws. You can see the fins on the bottom of the board but there's no fin screws on the deck. This greatly reduces rash and toe discomfort. Note the leash plug, for the same reason, is inset in the deck
Softboards, by their nature, are soft. This is good as if you get a bump you won't get hurt. They're also comfortable to surf as having a soft deck you don't get sore ribs and rash as with a hard fibreglass surfboard. However one of the biggest problems with softboards for Beginner and all surfers is their softness.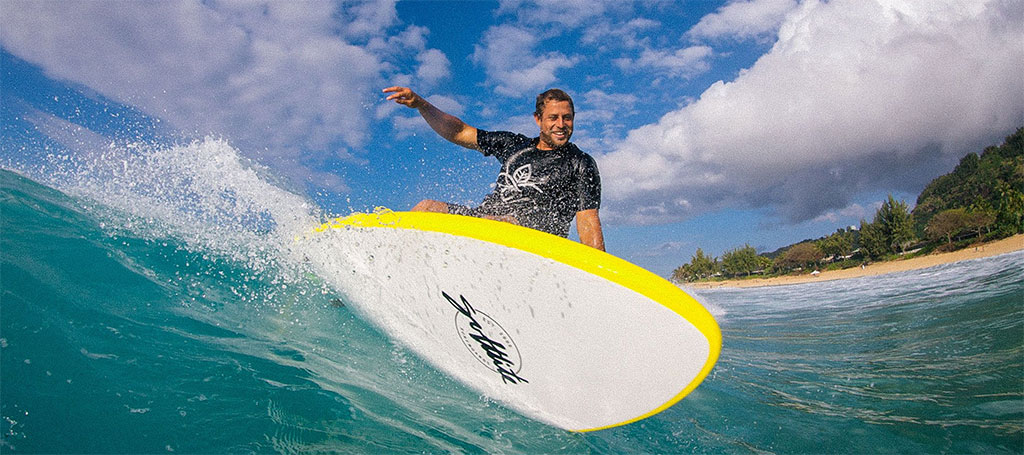 With Softlite you can carve with all the power of a normal surfboard without having your softboard flex and flop
Without high quality construction and materials softboards degrade very quickly. It could be one big hit from a wave that does it. Or just the constant wear of getting out through the break or standing on the board. Low quality softboards quickly become too flexi to surf properly, bending on the wave, even breaking.
Softlite Quality Core

One of the biggest advantages of a Softboard is that  you can surf it anywhere there's waves even in the flags & among swimmers with minimal risk
Softlite put a lot of focus on construction quality. They use premium quality EPS foam in the core. This type of foam is strong and resilient specially chosen to take wave impact while retaining its integrity. The EPS is 100% waterproof. So in the event that you get a ding your Softlite will not take on water.  The core gets its shape in a special moulding process and this adds a tough outer layer adding strength.
Unique Stringers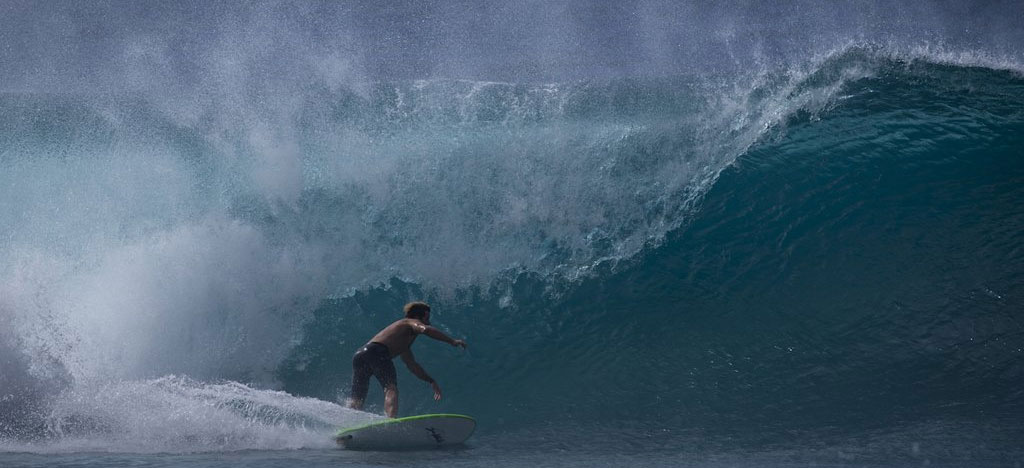 This is a pic at Pipeline Hawaii, one of the heaviest waves in the world. Check how the Softlite softboard is holding its line and shape taking on the power
Internal of the board Softlite include stringers embedded in the foam. These are reinforcements that run the length of the board similar to what you see in normal surfboards. This gives the board strength while helping retain its shape. Softlite has designed their own unique stringer system. Eco super-material bamboo is used to provide strength and the right amount of flex. If a board is too brittle it will break easily. Fibreglass and epoxy are added to the bamboo giving strength and recoil.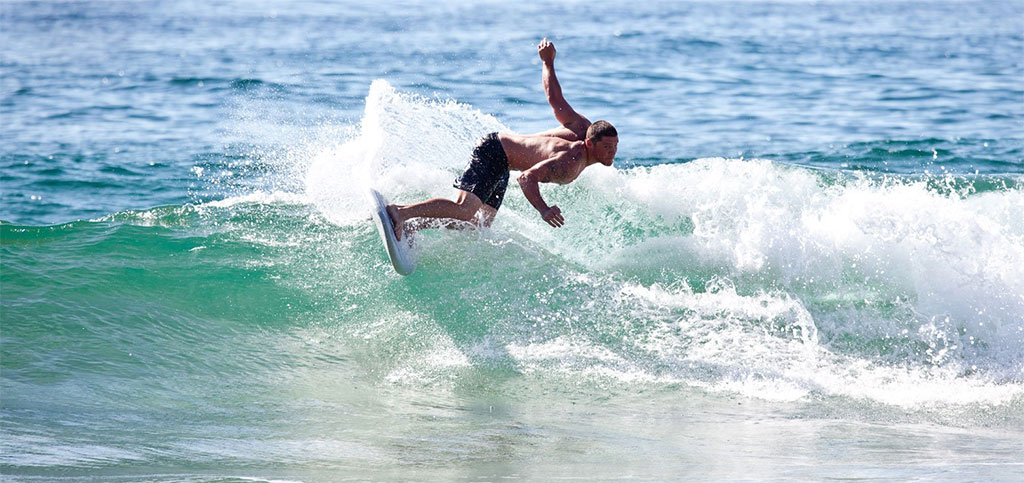 It's not just about being stiff. Recoil is a key component that manages the flex of a softboard, giving you an energy boost as you go out of turns enhancing your surfing
Recoil is an important part of softboard surfing. It means that as you go into a turn your board will flex storing up the wave energy then release it giving you a boost out of the turn.
So Softlite's stringer system will give you a performance boost and keep your board surfing great while protecting against breakage and loss of shape.
Fast Bottom Slick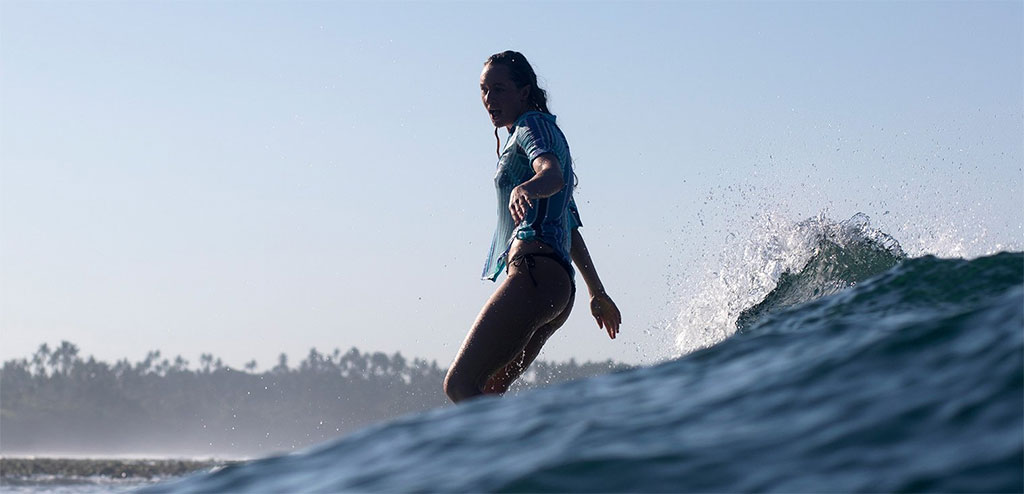 No wiggling or pumping needed to get speed. The Softlite quality slick gives you speed so you can cruise
The bottom of the Softboard has a slick similar to that on a bodyboard. This is a heavy duty plastic-like layer that protects the board while not being hard enough to harm if you get a bump. This slick though gives your board speed. It helps you catch waves and once on the wave the slick glides helping you turn and carve.
Fins & No Deck Bumps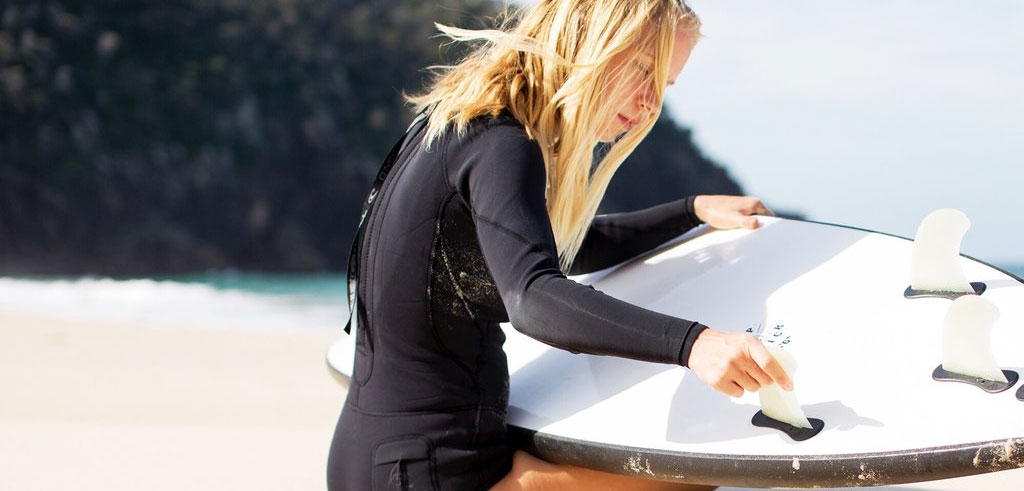 Above, using a fin system you can swap out your fins to change your board performance. Below, there's a range of accessories from Softlite including fins, so you can get the best out of your softboard

So you get safety Softlite softboards come with soft fins. There's thruster 3 fin and Quad 4 fin setups, so your surfing will progress with the mainstream. However rather than as on low quality boards where the fins are just screwed in, Softlite use a proven Bones and Shanks fin box that allows you to quickly install and remove your fins. This is also super handy for transport.
You can also upgrade your fins to stiff fins as you progress, radically improving the performance of your softboard. Stiff fins will allow you to carve harder turns, giving you greater control to do what you want on the wave face.
The slick, core and the entire board are put together with a high quality lamination process. Checking the board you can see it's super well bonded together.
Great Design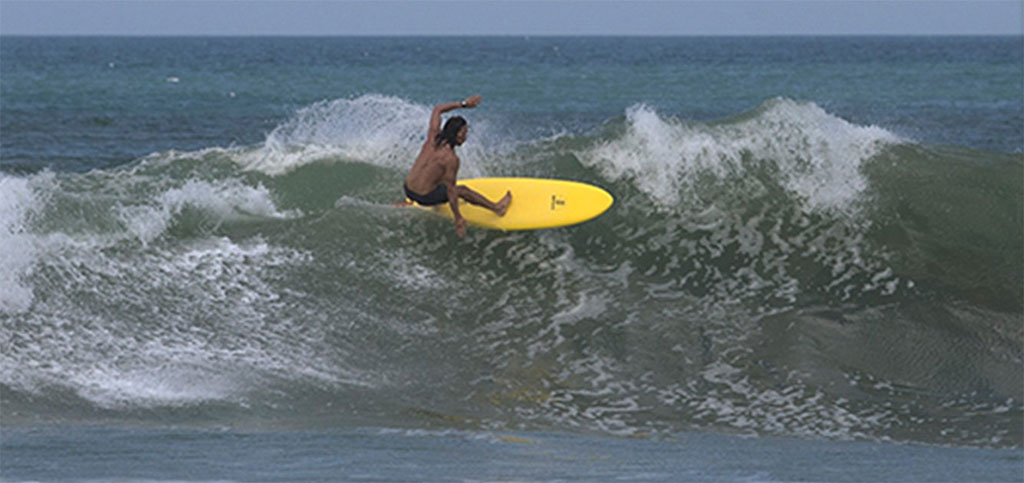 Above, Softlite softboards really surf. Below, when the waves aren't so great you can mix it up too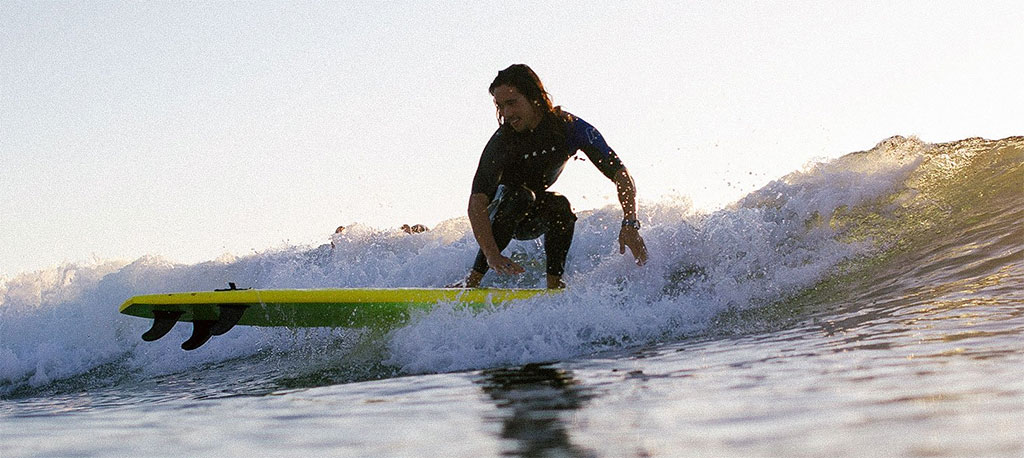 The design of the surfboard is key to how it will surf for you. Softlite has used the expertise of Shapers and Surfers to give you designs that work.
Fun Forgiving Rails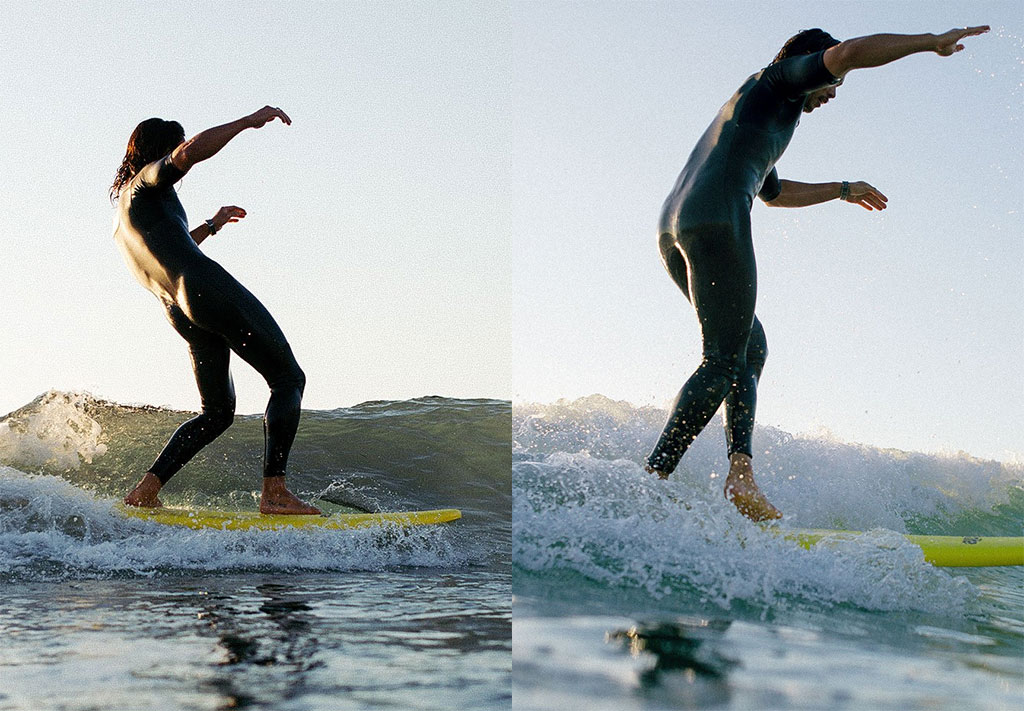 Check how tiny this wave is. The rails and whole board design work to give you the best surfing experience. Even in small waves you aren't limited to just going straight, you can surf, you can have a heap of fun
Quality of design is immediately noticeable on the rails. These are the thin sides of the board. Most softboards have square clunky rails that catch in the wave keeping you stuck going straight. You'll notice Softlite's rails slope from the deck into a nice rounded curve. This is very important as it reduces the feeling that you're surfing on the wave to being in the wave. You have to feel that you are in the wave to control your board and progress your surfing.
Manly Surf Hire has a full range of softboards including Softlite boards so you can try a board for yourself
The rail shape also helps with forgiveness. As a Beginner as you start to turn you won't catch and be constantly falling off. The rails will help you stay on making your turns.  As a good surfer you can go hard just like surfing on your normal board getting maximum performance and fun.
Full Range of Models

Above, there's a wide range of Softlite softboards. Some are specifically for Groms but you can pretty much surf whatever you like. Below, a Grom loving his Softlite

There's a wide range of Softlite softboard models to choose from.
For Beginner surfing it's best to go with a softboard that's long, big and thick with lots of volume. This will get you paddling easily out through the waves. It will get you catching waves, what you need to progress. On a big softboard you'll get plenty of flotation so you can surf, not getting bogged down on the wave.

You can also charge on your Softlite
For Intermediate and Advanced surfers you get a selection of shortboard and fish boards that will allow you to really mix it up. You'll catch waves you can't catch on your normal board and still be performing all your surfing moves.

There's generous good volume Softlites ideal for Beginners
In fact a Softlite Softboard can open up new levels and areas of your surfing. For example you could use a softboard to take on aerials. The risk of this high risk manoeuvre will be greatly reduced as a bad landing won't break you or your board.

Using a Softlite softboard to get your aerial surfing going is a great low risk idea
Softlite Softboards
As a Beginner surfer, a Softlite Softboard is a great way to start. If you're a competent surfer and want to surf and get fun out of junky waves then the Softlite Softboard is the perfect answer. Go get some fun on your Softlite!