Adrenalin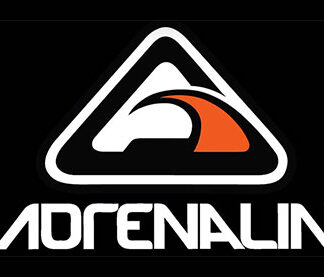 Showing 1–12 of 16 results
Showing 1–12 of 16 results
Adrenalin Wetsuits
Adrenalin is an amazing wetsuit company. With Adrenalin you get the best value wetsuits on the market. Whether it's lightweight super flex summer protection or warmth in winter cold, Adrenalin Wetsuits give you performance features and innovation at great value.
Great value means you can get more benefit for your surfing. For the same value as an alternate brand steamer you can get your summer thermo top, mid-season springsuit, and winter steamer from Adrenalin. Your whole surfing year is covered. Not only that, Adrenalin suits come with a lifetime warranty.
Let's check them out.
What Works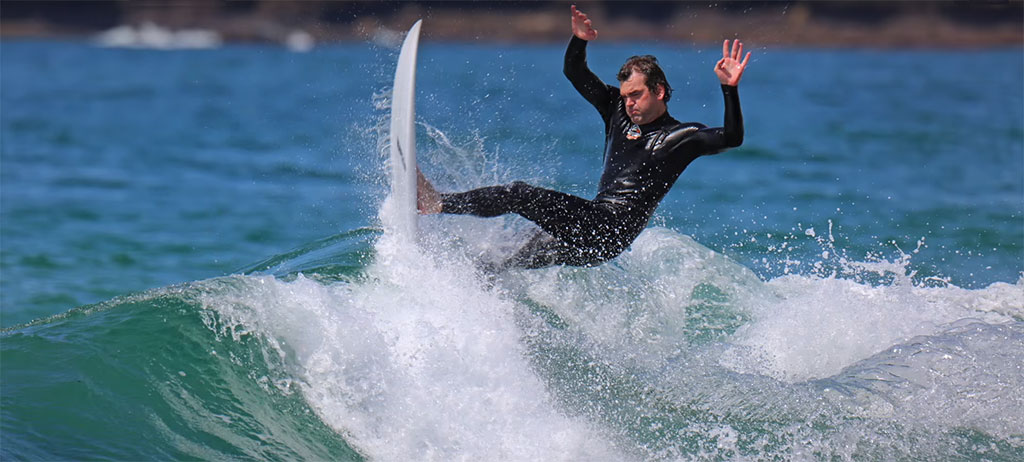 You get great performance in Adrenalin wetsuits. Brett Moore X-Pro Surfer, above, showing the performance Adrenalin give. Below, Adrenalin suits work great for Juniors and your kids. Not only are the wetsuits high performance they're super durable, coming with a lifetime warranty

Adrenalin has been in the surfing industry for several decades. They have a range of wetsuit designs and technologies that work. They're also an innovator with several world first unique suits and features. One of Adrenalin's biggest and best features is their price. The value they offer for the features you get is incredible.
Adrenalin Innovation

A unique world first solution. Super robust flatlock stitching overlaid with special tape on a special four way flex neoprene. You get maximum sealing, that lasts, and great performance
Adrenalin has brought a key innovation to wetsuit functionality.
Flatlock stitching is known as the most robust wetsuit stitching. However it has a major problem in that it leaks water. While other seam types such as GBS are glued and can be taped, limiting water entry, GBS is relatively fragile. If you pull on the GBS seam, the stitching, that only goes part way through the neoprene, will start to give.
What Adrenalin has done is to develop a flatlock stitch and special tape to completely seal the seam and your suit. This creates a unique blend of super strength with super sealing. Special four way flex neoprene is also used giving you flex. So you get a super sealed, warm and performance suit.
Advanced Composite Design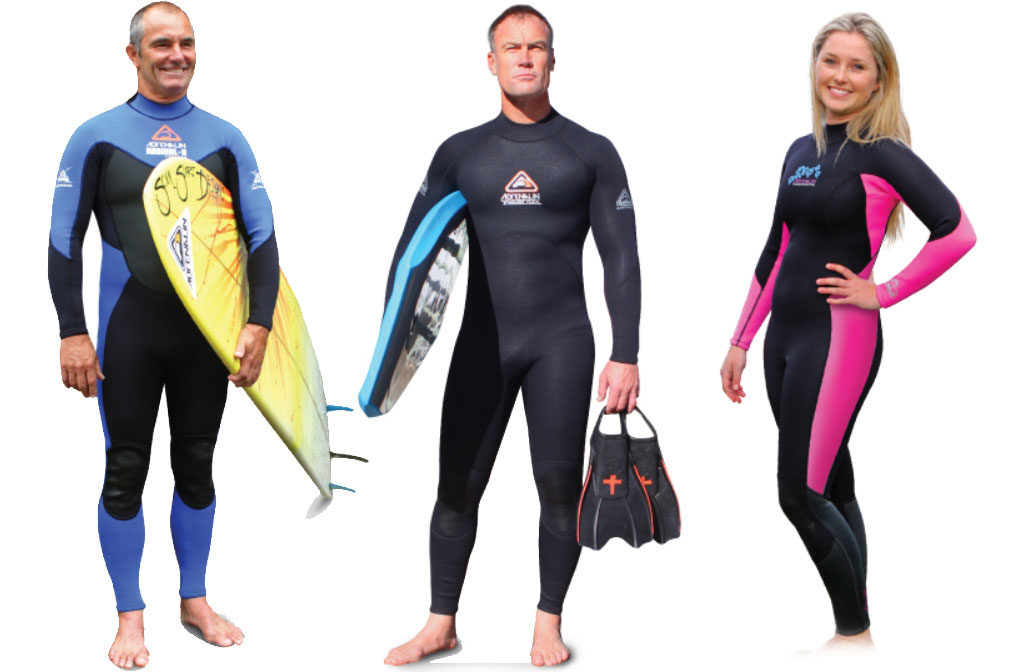 Use of composite design can be seen most clearly in colour panels in these Classic Steamer models. Jason Livingstone, multi Australian Longboard Champion, wears the Radical-X. It has a massive elbow to elbow super stretch panel giving maximum shoulder flexibility and performance. The Womens Enduro-X shows how the super stretch is used to give great fit contouring to lower back and body. The middle suit uses super stretch neoprene in black, so you don't have to have colours if you don't want
Another approach used by Adrenalin gives you great value. They mix and match the functional areas of your suit to the characteristics of the neoprene. So you get a composite suit, composed of several types of neoprene. Less flex neoprene is incorporated on the lower body and high performance super stretch neoprene is used in the panels where it's needed.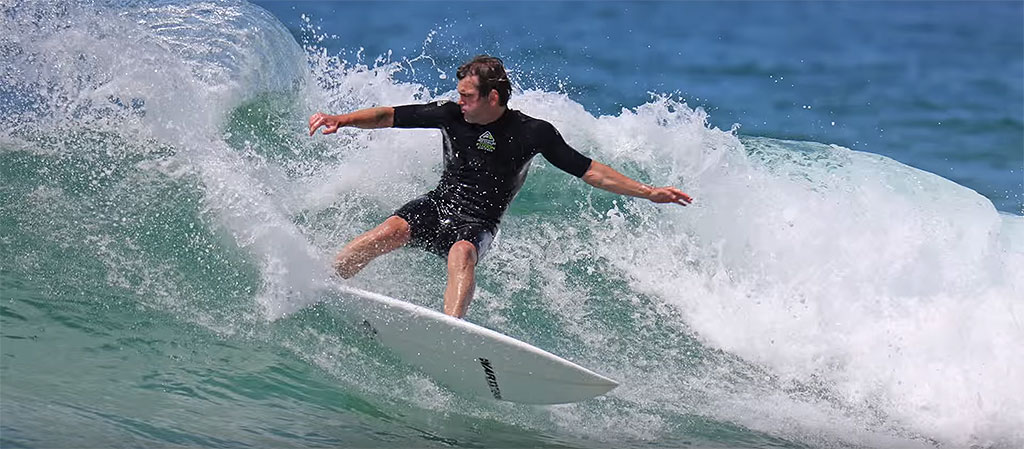 You get maximum performance without maximum price
If you think about it, your lower body, calves, thighs, are not undergoing high movement. So lower flex warmer neoprene works great. In the areas that are in motion, paddling, or in doing big moves, Adrenalin use super stretch neoprene to give you the performance you need. Your shoulders, underarms, and side panels reaching down to your waist are super stretch.
By mix and matching the different types of neoprene, great value is achieved.
Competition & Zipless Performance Too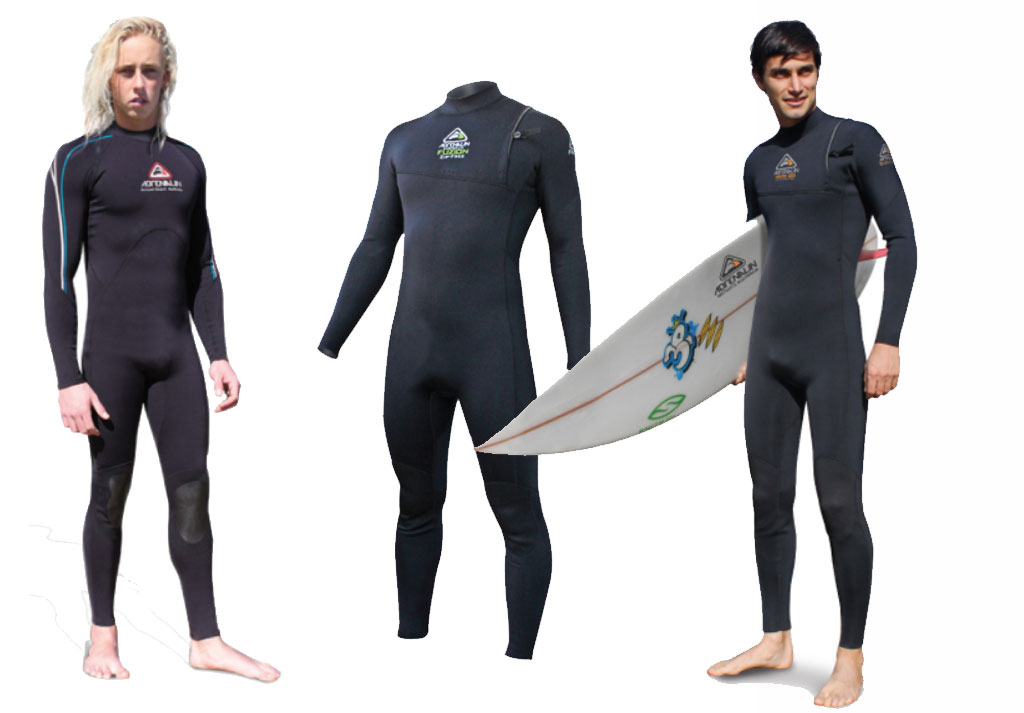 Great performance suits. On the left the Competition Super Stretch 1.5mm. It's super high performance, giving you flex for fast paddling and big moves. Middle, the Fuzion 3-2mm with super stretch neoprene used throughout gives flexibility with additional warmth. On the right the Hyper-Dry 3-2mm has super stretch neoprene with Hyper-Dry super flatlock taped sealed seams. You get performance flex and maximum warmth. Note the Fuzion and Hyper-Dry have advanced zipless designs
Not all Adrenalin suits use composite neoprene. The Competition, Hyperdry and Fuzion series are high performance suits that use super stretch neoprene in their entirety. While still being amazing value.
The Competition series gives you a suit that's only 1.5mm thick all over. This is ideal for competitive heats or high performance surfing with your local crew. The neoprene, being so supple, also gives you a great fit. In this way the suit optimises warming your internal water layer, so you still get great warmth in the thinner 1.5mm neoprene.
Even if you're not competing, this is a great suit to have on hand when the waves are good and you want to surf all-out. You get enhanced paddling and great performance.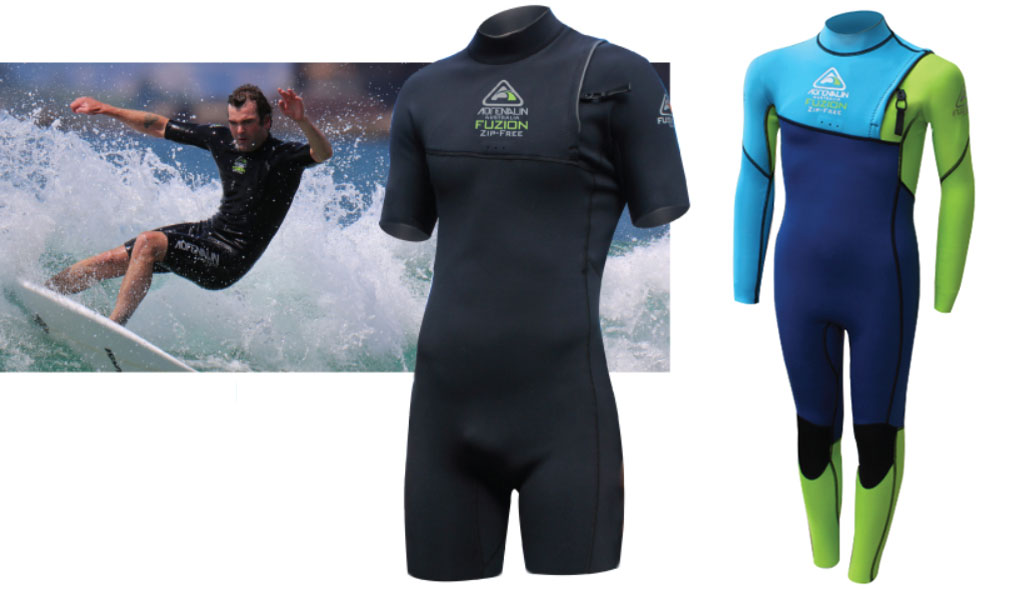 The Fuzion series also comes in spring suit and Junior steamer styles. The zipless format is great, giving maximum freedom of movement and performance
The Fuzion series gives you 3-2mm super stretch neoprene. For your day to day surfing you get the additional warmth of the 3mm body panels and the performance flex of super stretch.
The HyperDry, as the name implies, gives you a super flex suit with the advantage of minimal water entry. The seams use the innovative flatlock and tape Hyper-Dry technology. So you get a suit that is super warm and performance oriented.
Zipless & Back Zip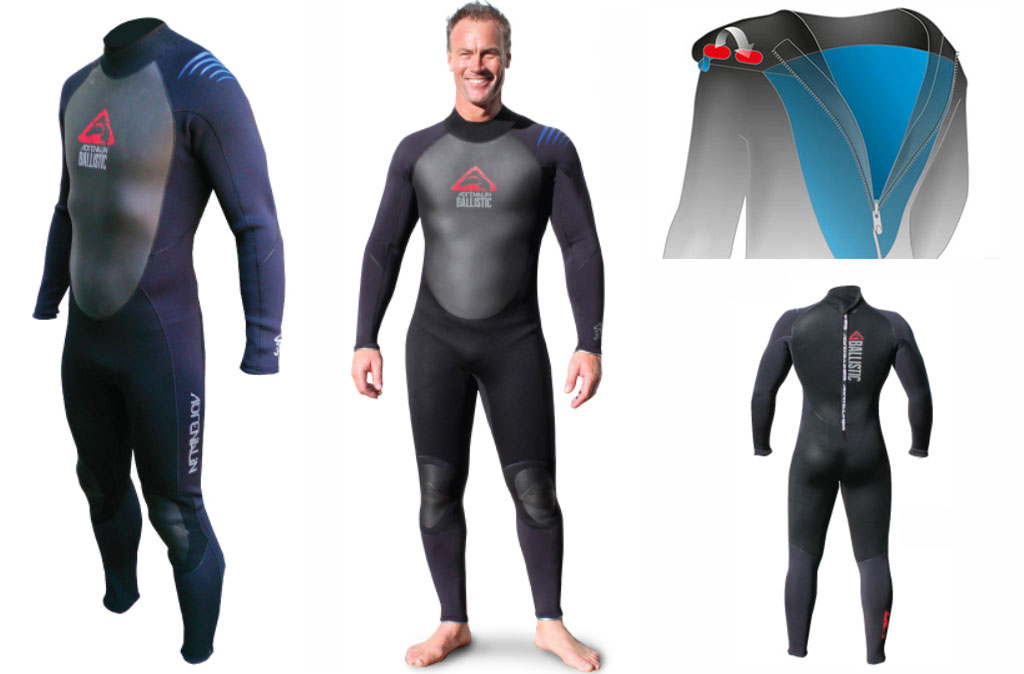 Continuing to develop back zip suits, Adrenalin has some amazing models incorporating the batwing. So you get great ease of entry and exit along with warmth. The Ballistic steamers come in 5-4mm and 7-5mm thickness so you get super warmth
Zipless suits have been hailed as the highest performance design. This is due to their advanced flex from not having any stiff plastic in them in the form of a zip. If you're after this super performance design it's offered in both the Adrenalin Hyper-Dry and Fuzion models.
However for Old School surfers these zipless suits are considered the most difficult to enter and exit.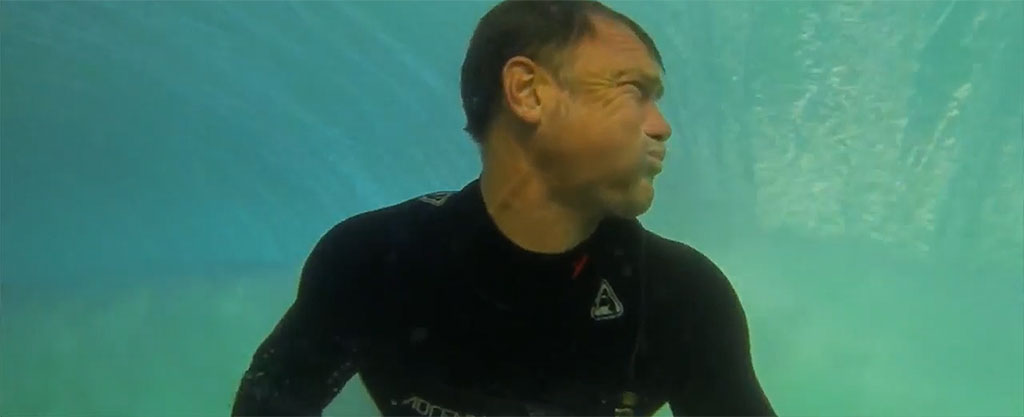 A unique underwater duck dive pic. Note not a sign of an air bubble from a leaking seam. The suit is fully, super sealed
So Adrenalin has retained and continues developing their backzip wetsuit range. The backzip suits are by far the easiest suits to get on and off. Not only that, they perform. Adrenalin Team Rider Jason Livingstone has taken home multi Australian Longboard Titles surfing in his Adrenalin back zip suit.
Adrenalin's back zip suits also incorporate a batwing. This gives you super sealing as the batwing panel stretches across the entire inside of the back zip opening preventing water entry. The suit still opens wide allowing the easiest entry and exit. The Ballistic suits also come in super warm setups with 5-4mm and 7-5mm neoprene thickness models.
Lifetime Warranty

Not only do you get performance, you get a lifetime warranty
In terms of components Adrenalin sticks with what works. YKK zips are used extensively. YKK is known for its performance, it works the same from the first day to the last. Instead of going for some new tech that will wear out or break, you get a zip you don't need to worry about.
Because Adrenalin knows the quality of its zips, neoprene and construction, it confidently offers a lifetime warranty. So their innovative flatlock stitched taped seam, their Dura Flex and Super Stretch neoprene, is backed up by a durability guarantee that doesn't get any better.
Kids  Season

While Adrenalin's features have been described in terms of value, their durability should also be emphasised. This is nowhere more apparent than with Kids wetsuits
With wetsuits for your kids you look for a suit that will give a good current fit but will also allow room to grow. If you have several kids you might also look at a multi-use strategy where a suit can be handed down. Adrenalin is the perfect kids suit. Your kids not only get great surfing and beach fun for a season, the wetsuits are so durable, the same suit can give fun for years.
With Adrenalin you'll find a model to match your kids surfing level, and it will give great value too.
All Covered
Above, a super comprehensive range gives you a suit for whatever type of surfing or water sport you're into. Below, Jason Livingstone, multi Australian Longboard Champion in an Adrenalin Thermo Top

Adrenalin has  a comprehensive range of Girls and Womens suits along with Mens, Juniors and Kids. So the range covers everything from rash and summer vests, to spring suits and full winter steamers.
Wetsuits For The People
Adrenalin pack a huge range of innovative features into suits that are proven to work. The greatest feature is that they give you amazing value.