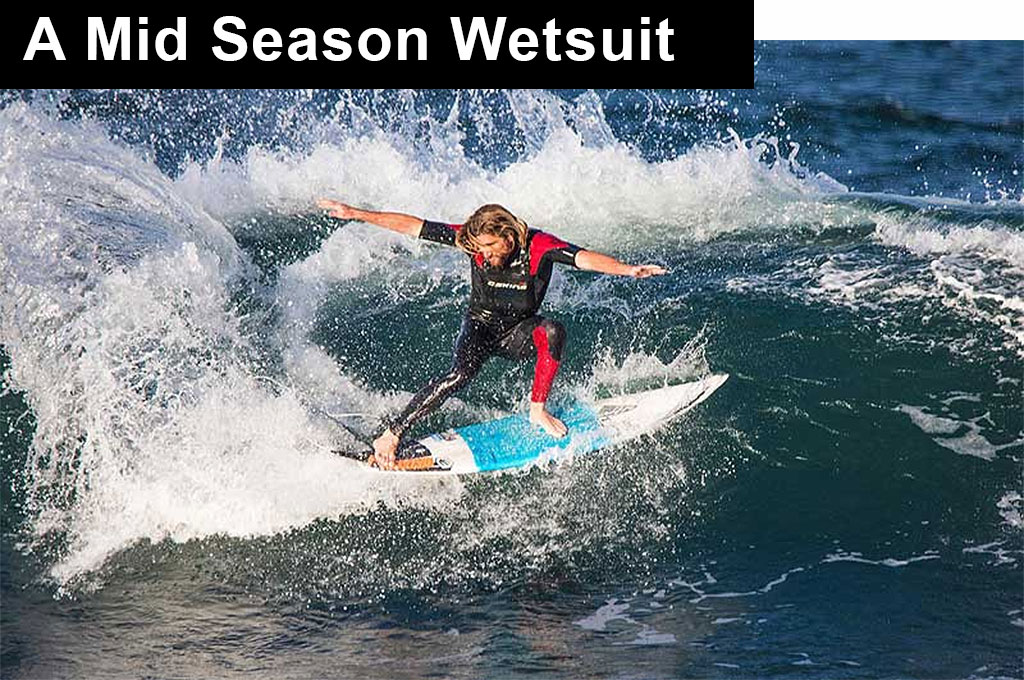 Mid Season Wetsuit
A mid season wetsuit is all about giving you more time in the surf, and maximising your performance when you do surf. In mid-range temperature water you could use your bulky winter steamer or chill in boardshorts. Some surfers do.
A mid season wetsuit is the better option to keep you surfing optimally. You get warmth and flexibility, comfort and lighter weight performance. With a mid season wetsuit you'll be surfing your best in the mid season chilly mornings and blustery late afternoons.
Another Wetsuit?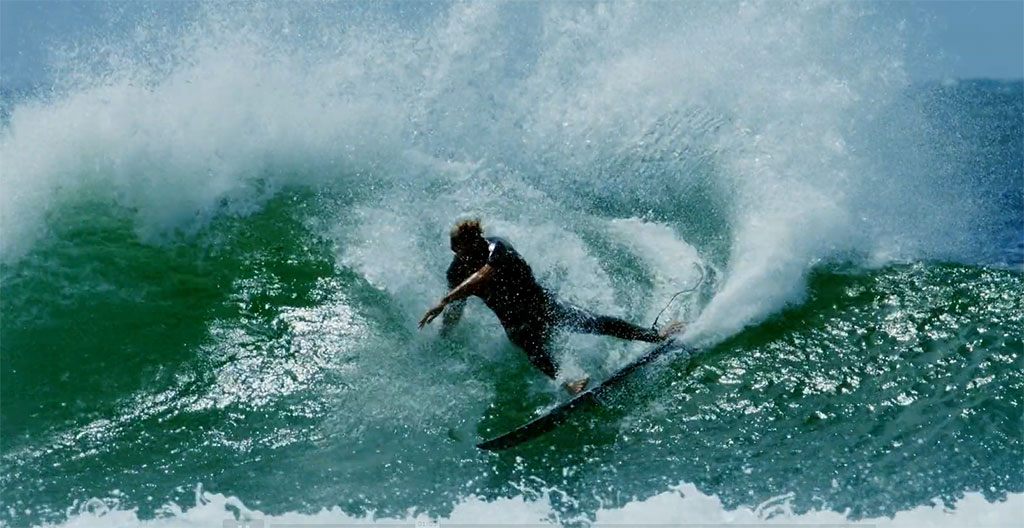 ION Team Rider Koby Perkovich power carves on a bumpy windblown wave face. You need to be warm and limber to let loose this kind of body torque
Having multiple wetsuits may not be for everyone. If you surf everyday, if you want to get the first and the last of the day's waves, and surf your best in them, then you know the value of having the right setup. If you have surfboards to match wave conditions- a Fish or grovellor for smaller waves; a Daily Driver for everyday size surf; then Stepup for bigger waves; similarly, it makes sense to have wetsuits to match the changes in your surfing environment too.
A mid season suit gives you the edge over the environment, getting you out there, getting waves, and performing optimally.
For 2021
From the outside wetsuit shapes don't tend to change. This is true for mid seaon wetsuits. You still have the options of a short arm or long arm spring suit, or short arm steamer. Lets look at some of the more impactful changes.
Less Stitching Better Cut
A general trend in 2021 is for wetsuits with less stitching. This means they have less panels. The panels they have are longer covering more area. This impacts your surfing in several ways.
Stitching is stiffer than the neoprene wetsuit material. If you pull your wetsuit where the stitching seam is and pull it where there's no stitching you will feel a huge difference. So less stitching in the areas where your arms move, at your shoulders or across your shoulder blades, will mean more flex and easier paddling. Your paddle strokes will go farther faster with less energy. Less stitching through the body of your suit means your body movement will be less hindered. Your energy will go more explosively into extensions for big moves and crouches for the tube.
Less stitching also means less wear as stitching is where your suit comes apart. The stitching can unravel or it can tear through the neoprene. Less stitching gives you durability.
One negative of less stitching is that your suit fit may suffer. If your suit uses lower quality neoprene it may feel like a good fit in the shop. However lower quality neoprene tends to lose its shape, it becomes baggy. So your wetsuit will not keep you as warm. The latest neoprene in good quality neoprene is designed to overcome this problem. It stretches around your body and with less stitching fits snug.
New Stitch & More Tape

In the left image you see stitching. The stitching on the left is the new slightly raised format that joins the neoprene on a wider surface. On the right the flat lock stitching is nice and flat but only joins the neoprene butt ends. On the right image you see tape being used more widely
An alternate style of stitching that has been around for a while is becoming more popular. Whereas flat lock stitching was used on many suits, this alternate stitching instead of butting the neoprene ends together joins the two neoprene pieces on a wider surface. So even though the stitching isn't waterproof there's more neoprene stitched together that the water has to pass through. So less cold water coming through means you stay warmer. This stitching creates a slightly raised seam compared to a flat lock seam. It's worth a check to make sure your internal seams don't have this raised seam as it will cause you rash.
Taping of the seams is now more common in your suit. This is a great feature as it gives you a next level of warmth without any tradeoff. Tape is applied on the inside of your suit over the stitching. So less or even no water will enter. So if you're wearing a wetsuit you will be warmer. This allows you to go for a thinner lighter wetsuit that's taped that will aid your performance, over a heavy unsealed suit. The tape also protects stitching stopping it from unraveling and from overstretching and tearing. So the life of your wetsuit investment is extended. The tape is smooth too so you get a comfy feel.
Advanced Smoothie

On the left you can see the new smoothie material is applied onto the nylon shell of the wetsuit neoprene. On the right the latest neoprene has a nylon external finish that helps it retain its form so it doesn't bag out over time
Smoothie panels, on the wetsuit chest and back, give your warmth a boost by deflecting the wind and beating wind chill. There was however a big problem with the smoothie finish. It was a fragile surface made directly out of the neoprene of your wetsuit. While super soft and supple it had no foundation so was weak and it was easy to get a cut in it or put a finger through it. It would also wear from paddling in the area where your ribs would push down on your board deck. A new smoothie material has been developed. It is now applied on the nylon surface that finishes the neoprene. It's a distinct layer with much more durable properties. So expect to see more suits with longer lasting more effective smoothie panels.
Several Options For Your Mid Season Wetsuit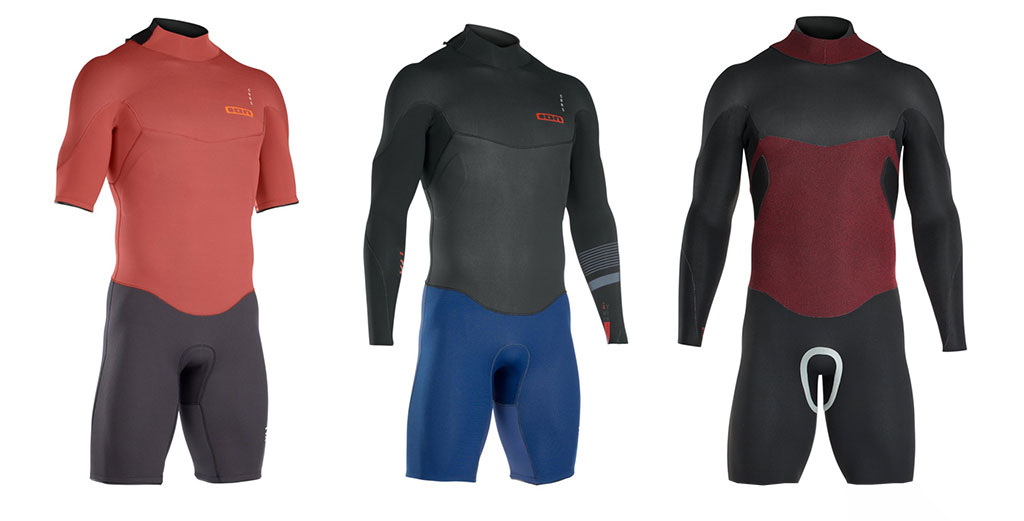 Spring suits are a typical mid season wetsuit. They can have short legs with either short arms or long arms.Back zip, front zip and zipless options are available. They include all the features you get in other wetsuits including flatlock, GBS and taped sealed seams
A  mid season suit can be a spring suit or short sleeve steamer. A spring suit comes with either short legs and either short or long arms. The other mid season wetsuit, a short sleeve steamer, comes with long legs and short arms.
Apart from the suit shape, the thickness of the neoprene is what sets a mid season suit apart from your winter steamer. The neoprene used would be 2mm or a 2mm-1mm combination. compared to 3-2mm or 4-3mm in your winter suit.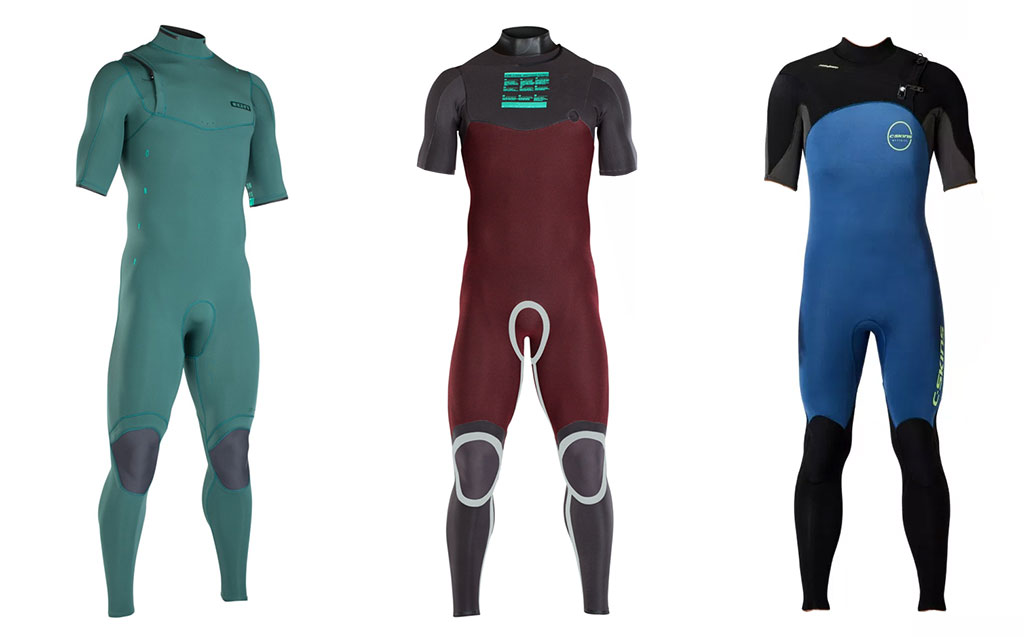 Short sleeve, or short arm, steamers are not just a winter steamer with the arms cut off. They have their own streamlined feel and thinner lighter neoprene. Light weight adds to your surfing performance
It may be that there's a manufacturing sweet-spot involved but 2mm suits typically have amazing neoprene. The neoprene seems much higher quality. You get flex, warmth, more resilience when compared to your heavier thicker winter steamer. A mid season suit is not just a downsized steamer. They definitely have their own characteristics and features adding to your mid season surfing.
Spring Suits

Whether your carving or chilling, a mid season suit is a great option. C-Skins' Womens spring suit offering
Spring suits come in two formats, long sleeve and short sleeve. The choice between them comes down to personal preference. It's worth giving both a try.
The long sleeve spring suit gives you that little extra comfort. Your upper body has complete coverage from the elements. This coverage protects your from cool water chill, blustery wind chill, and scorching sun.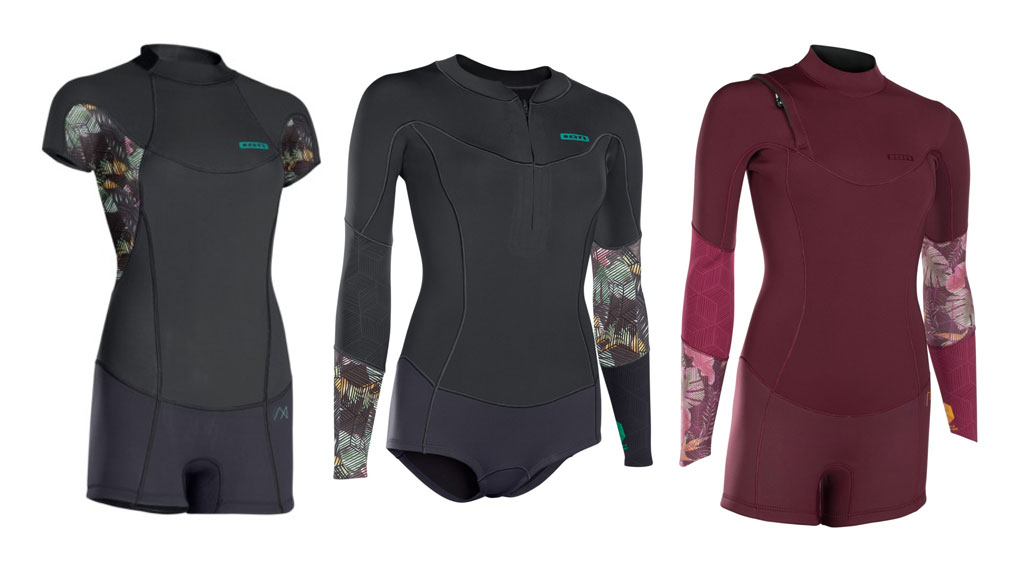 Womens spring suits can come in a variety of shapes. Cap sleeve, bikini bottom, long sleeve. Long sleeve provides a definite advantage if UV exposure is a concern. Above are ION's Womens offerings
If you're concerned about UV the long arms are a definite deciding factor. In all other features the long sleeve spring suit will be the same as its short sleeve counterpart.
The short sleeve spring suit gives you a feeling of freedom. If you're surfing more during the day, and don't mind the UV, then you won't need the warmth provided by longer arms. The shorter sleeves definitely add to ease of paddling. The feeling of freedom flows through to your ability to paddle more easily, get waves and do bigger moves.
Compared to boardshorts, with a spring suit your lower body, especially lower back and groin, feel protected and supported. The additional warmth also acts as a safeguard against strain or injury.
Long arms on your mid season wetsuit provide one other valuable advantage. They protect against marine stingers.
Short Sleeve Steamer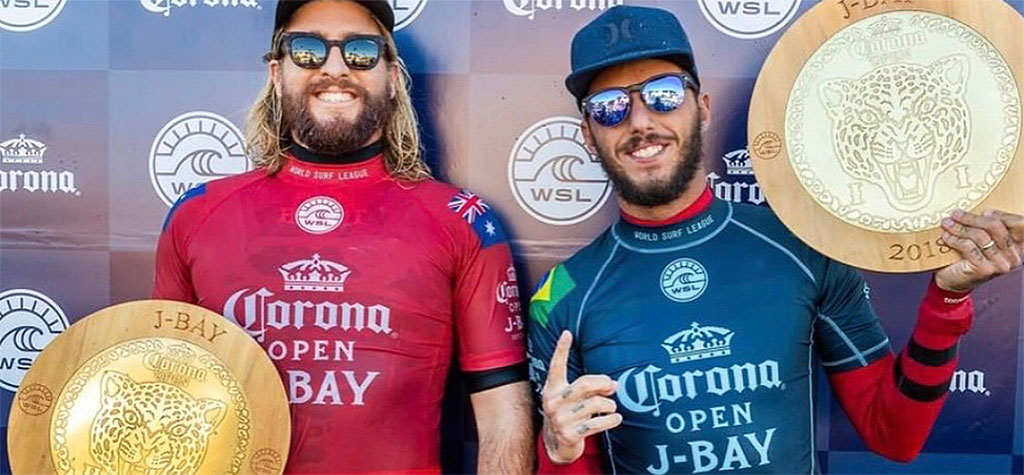 On the winner's dais. Wade Carmichael second place at J-Bay 2018. Note his short sleeves. Having been surfing in his winter steamer for most heats he switched to the his short sleeve steamer for the Final to get a performance boost. His winning suits come from C-Skins
The short sleeve steamer is not just a winter steamer with short arms. There's a very different feel to the short sleeve steamer, differing from that of a spring suit too.
In a short sleeved steamer you feel streamlined. Your lower body is fully covered. So you get warmth and comfort. You feel supported and more able to go with big torso twisting power moves. Your arms though are free to power your paddling, power your body torque.
With the neoprene extending over your lower body your centre of gravity is lowered. You feel more stable, sure footed on your board.
The short sleeve steamer is often used by Pro surfers when they want extra performance in a colder environment. When they've been wearing their heavier winter steamer the change to their short sleeve lighter weight suit gives them a performance boost.
Features

Mid season wetsuits have a full feature lineup. Everything you'll find in your latest winter suit is repurposed to give you optimum performance in milder environmental conditions. This array of features is what you get from C-Skins
A rich set of features are on offer in your mid season suit the same as available in your winter suit.
Fit

Adrenalin's range of mid season suits offer great value and variety in terms of suit cut, fit and function. Check the first two suits and the different ways they handle shoulder treatment. The second suit offers a super flexible bicep to bicep stretch panel that aids your paddling. The third suit is the Adrenalin zipless. The womens suit shows the use of the flex side panel to give great fit
Fit of a suit is determined by cut of the panels. Different brands and different models within a range can differ in the cut of the suit. Around the shoulders are where some of the most pronounced differences can be seen. Some have an off the shoulder cut where the seam runs close to the edge of your shoulder. A raglan cut that goes from your neck across to your bicep provides additional stretch as there's no seam to pull against. An extension of the raglan sleeve extends the whole upper body piece from bicep to bicep providing great flexibility, aiding your paddling.
Zipless suits, as with winter steamers, provide additional flexibility as there's no plastic zip to pull against. However zipless spring suits can seem to lack form so check how each brand implements this feature. Suits can also have flex panels on the sides to aid lower back and lower body fit.
Stitching and Sealing

On the left, flatlock stitching looks like it gives a great seal. While being robust and durable, it actually leaks water. In the middle a GBS seam has stitching that doesn't penetrate all the way through the neoprene and has glue underneath. On the end you can see the other side of a GBS seam. It's smooth. There's no stitching showing, the seam held together with glue
On lower end mid season suits you get the option of flatlock stitching. This stitching is robust and durable. The drawback is, though it looks like it gives a definite sealing of the seam, it actually leaks water. If you're surfing in warmer water this is not so much of a problem. The stitching also can rash or chafe. The trade off is that flatlock mid season wetsuits tend to be good value.
The next step up in features is seam sealing. This comes in the form of GBS, Glued Blind Seams.

Tape adds to the warmth of your suit. This may be overkill in mid season temperatures. However the tape also adds to your suit's durability and longevity
These seams are identifiable by their smooth finish on one side. Because there's no stitching against your skin the GBS suit will give you extra comfort. Keeping water out means your body will be warmer, less likely to overstretch and sprain.
Some or most of the GBS seams may be taped. This additionally limits water entry. In areas around the crutch this tape also adds to the strength of the thinner 2mm neoprene increasing your suit's durability and longevity. Sealing is worthwhile as if the environment warrants wearing a suit you want it to work at its best.
Versatile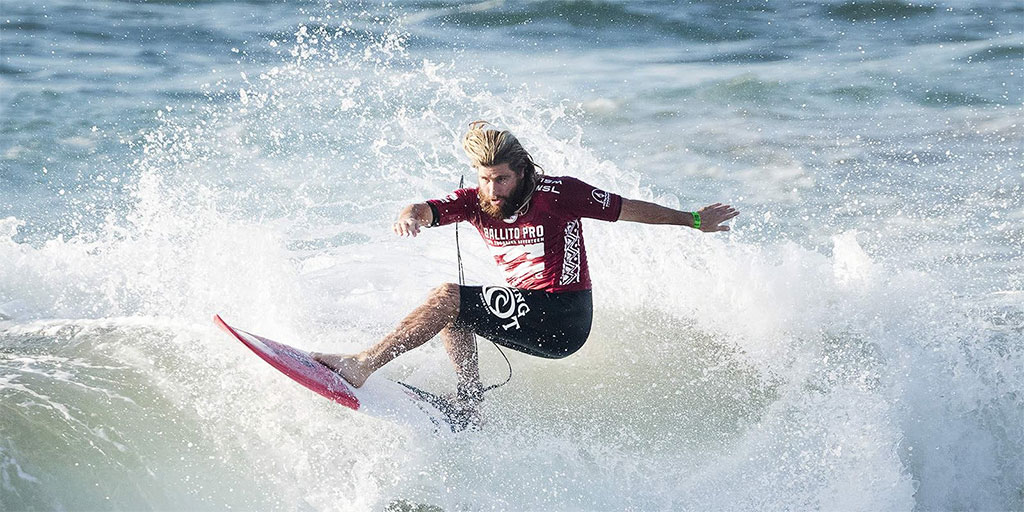 A mid season suit gives freedom of movement over your winter wetsuit, instantly responsive to what you want to do
A sealed mid season suit can be very versatile. They're great for early pre-sunrise surfs in mid season and summer. They can even be used in winter on warmer days when the sun is adding warmth.
In a sealed mid season suit in the sun you may overheat. If this is the case, just take it off.
Neoprene
The quality of neoprene varies between the lower and high end suits.
To give value, flatlock suits may use a lower flex, warmer neoprene on the body with high flex panels on the upper body. This gives you good paddling with only a marginal reduction in lower body flexibility. This mix and matching of neoprene increases the value proposition of the suit.
Flex neoprene is used throughout on the performance oriented mid season suits. Flex neoprene gives maximum freedom of movement for paddling and for big moves. These suits tend to offer better fit as the neoprene is more supple fitting to your body contours.
If you're finding a less expensive suit doesn't fit quite right then an identical size suit with higher quality neoprene will likely be the best option.
One other benefit of a suit with higher quality neoprene is that it's likely not to stretch. It may not happen immediately but lower quality neoprene will bag out losing it's stretch and fit, so reducing its ability to keep you warm.
Internal Finish

Mid season suits can incorporate plush linings. These are similar to their winter wetsuit counterparts though not as heavy weight
As you look at the models in the mid season wetsuit range you can see that the higher end models start to include fleece. These plush linings add to your comfort and the warmth of your suit. They're not essential though and if the suit is sealed, the standard normal neoprene finish works great.
External Finish

Mid season suits can incorporate smooth finishes on the front and back chest panels. This is a great option if you're surfing in blustery sea breeze conditions as it deflects the wind and defeats wind chill
If you're surfing when it's windy, typically in the afternoons when the sea breeze rises, then a smoothie finish is worth considering. This smooth finish prevents these areas of your suit from taking on water. So when the wind's blowing your core body area has wind chill reduced. You stay warmer longer.
Mid Season Wetsuit
If you want to maximise both your time in the surf and your performance during that time, a mid season suit is what you need. In the same way you've got boards for different conditions, it makes sense to have the right wetsuits to keep you surfing your best through all environment conditions too.