VS Bodyboards
VS Bodyboards give you hard core bodyboarding and hardcore fun. Their high quality advanced tech boards are designed for the slickest tricks and biggest moves. In perfect waves, or the messy surf you ride day to day, VS will give you great performance and the best fun.
The letters VS stand for the Versus Project. VS is sister to the NMD Board Co so you'll see crossover in the materials and constructions. However VS is led by Dave Winny Winchester. Bodyboarding royalty, like the NMD crew, Dave follows his own high energy path. The results are incredible board designs that stand on their own merit amongst the world's best.
Hard Core & Fun

Dave Winny Winchester having some hard core fun

VS Team Rider Santo Vanderwaal showing that you don't need perfect waves to get fun & performance from your VS bodyboard. Pics above and below pulled from Santo's VS Team Rider show reel

The core VS mission is to give you great performance and fun in your day to day riding.
So whether you're on a photo trip in perfect WA power with Winny and Team mate Jared Jerry Houston, or playing in the messy stuff like fellow Teamies Noah Gilroy, Santo Vanderwaal, or Eric Roy, on VS you will perform.
Start At The Top
Dave Winchester's sell-out design, the VS Wi-Fly Quad
The Wi-Fly Quad is a great example of VS differentiation. Dave Winchester's sell-out design, the Wi-Fly incorporates both high tech construction and advanced design to give you ultimate performance.
At the heart of the board is NMD's patented PFS 3 Core. PFS stands for the Parabolic Flex System, now in its third generation. With PFS 3 lightweight strong vertical beams are placed in straight lines from nose to tail through your board's foam core.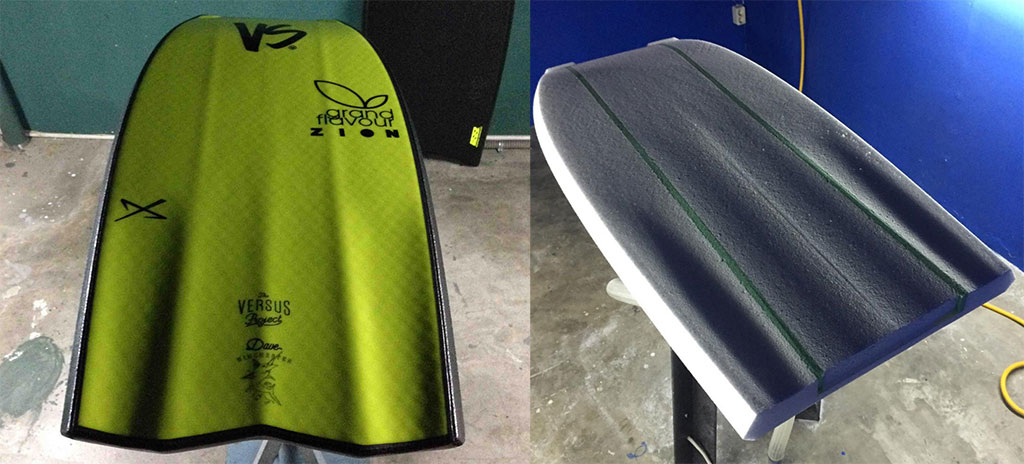 These pics provide a clearer view of how the PFS-3 beams help accentuate the Wi-Fly's Quad channels
This creates synergy between several other features greatly enhancing overall performance.
First, Winny's quad channels run in between each of the PFS beams. This makes the channels more prominent so that water channelling and flow is more effective. You get speed. The accentuated channels give you extra bite, acting almost like a second sets of rails. So you can draw out harder bottom turns or hold into super critical parts of the wave.
The core itself has a Ben Player curve, proven to deliver that magic blend of speed and carving. So the PFS beams in the core also act to give maximum integrity and recoil to the curve. You can flex the PFS so your board carves into the face, then on release your board instantly returns to the magic Player curve. So you get high performance no matter what you're doing, transitioning, carving or racing for a barrel or launch.
The Wi-Fly's tail setup compared to the conventional clipped Crescent Tail and Bat Tail
Magic Tail
Winny's input doesn't stop there. Wi-Fly refers to the tail of his design. It looks a little like two bat tails side by side. The extended sections, adding area to the tail as opposed to taking it away like a crescent tail, gives you more speed. However it's not in the tail that it adds its key feature. The Wi-Fly actually reduces the rail length so your board surfs like a shorter board.  It's easier to bottom turn, carve and spin, giving you more release and an incredible responsive ride.

The ISS enables your board's flex characteristics to be altered to suit conditions and your personal style
Into all of this Dave has thrown ISS, the Interchangeable Stringer System. So you can customise your board and its flex for a huge variety of conditions, big or small surf, powerful and fat waves, points or beaches, and a variety of water temps.
So Winny's VS Wi-Fly design gives you: greater core and curve integrity with PFS 3; more carving and speed with quad channels; more outright speed, release and responsiveness with its tail layup; and customisable versatility with the ISS.
VS Bodyboards Overall Tech, Materials & Construction

Jared Houston VS Team Rider showing off his own Signature board
The models in the VS range incorporate advanced materials, construction and feature combinations designed to give you great performance and fun. Here's an overview.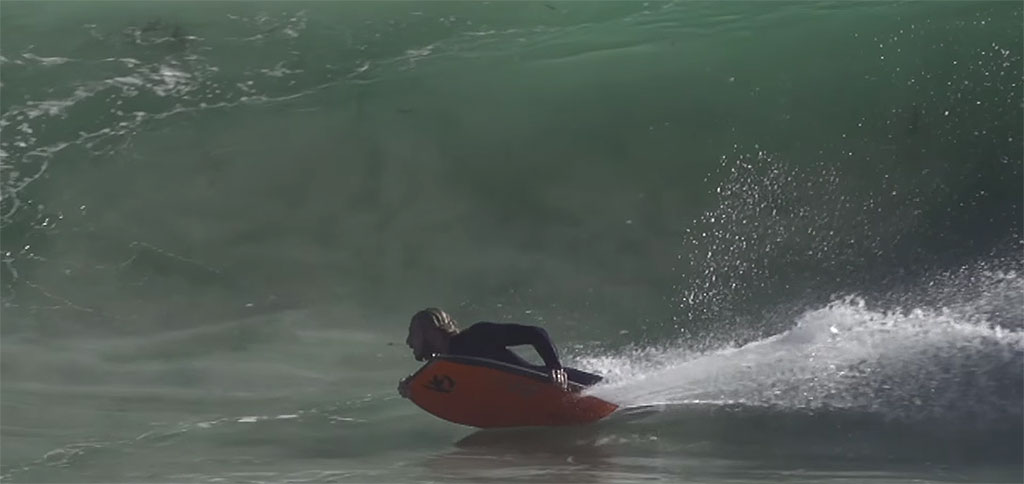 Winny performing on another Signature VS model other than the Wi-Fly. Look at how little of the board is in the water. An indication of great design enabling rail control, speed and hold

VS designs help you control time and space so like Winny you can put yourself in the perfect position
The PFS 3 has been discussed above and an alternate core is the Parabolic Base. This uses a similar layup of high density beams through your core for great flex-to-recoil energy transfer.


There's the application of highest quality versions of the industry standard cores, PP Kinetic Core and mid-range NRG + Core. So in different VS models you get purpose selected cores giving you the right mix of recoil, projection and pop.
Tension Tech is the use of mesh and crosslinked PP skins to create a tensioned layer in your board. Mesh in a diamond pattern under slick and deck layup is also used. Both of these options create variations in overall responsiveness, recoil, stiffness and projection. Traxion Deck Contours add additional flex control on the deck layer while also aiding body engagement and grip.

Hand work and finishing is an integral part of your VS bodyboard

VS also showcase the individualised nature of their boards. CNC, computer controlled cutting machines, are used to cut the shape for each board maintaining design integrity. Graduated channels are likewise cut into each board to give precise performance. Hand finishing gives your board the extra attention that results in the highest quality finish.
XFL Armour is a bumper type of treatment that fully encompasses your board beneath the skin, giving maximum durability and protection.
VS Bodyboards Hard Core Performance & Fun
Reflecting its key personality, Dave Winchester, VS Project bodyboards give you hard core performance along with hard core fun. With VS you get exceptional designs with a foundation of high tech materials and constructions.
Check our full range of Bodyboards and Gear at Manly Surfboards>Bodyboarding