Orca High Performance Swim Gear
Give yourself the edge in your swimming, surf and water sports with Orca high performance swim gear.
From wetsuits to goggles, swimsuits and triathlon accessories, Orca has advanced products that give you the champion's edge. So if you're a casual swimmer you'll still benefit from Orca's advanced tech giving you the ability to enjoy your sport the whole year round. Through the coldest winters to warmest water temperatures you can do what you love. Let's check their range to see what they can do for.
For 2021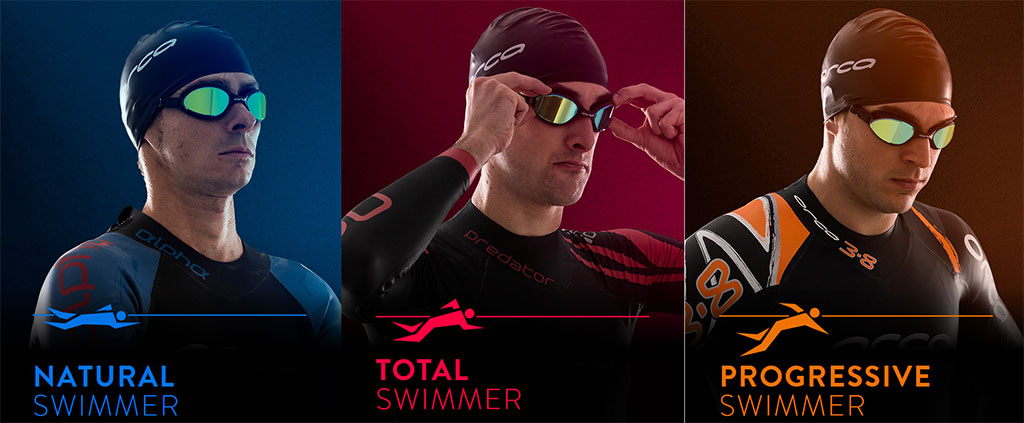 Special attention has been given to support your swimming style with differing high performance models
Orca continue its progression of great products. There's a clear differentiation offered between wetsuit models. Each model maximising performance across your preferred swimming application. Orca's new accessory gear helps fine tune specific areas of your performance. Their new gear also includes convenience options to improve your overall training experience. Let's check it all out.
Bringing a clear differentiation to their wetsuit range Orca offer 5 different models. Each model offers advanced neoprene and hydrodynamic qualities. Each optimised for your specific swimming application.
SwimRun. These suits blend Orca's performance neoprene upper with a high flexibility durable lower. So your arms, more prone to chill, stay warm, while your hips and legs have maximum freedom to perform. Additionally the suit's zip placement has been relocated to the front. This design reduces backzip constraint to your swimming equating to greater performance. It also means you can part-way unzip and so get extra ventilation and cooling during your run. The front zip makes it super easy to get the suit on and off if a change is needed. Additional features include pockets for Orca's performance buoyancy pads or to hold your other items like your GPS and food.

On the left SwimRun  male and female wetsuits. The upper body features super flex neoprene for power strokes. Note the high-flex high-durability lower so you get maximum freedom & performance on your run. On the right, OpenWater male and female wetsuits. Note the high-vis safety colours and more substantive neoprene providing protection from the elements
OpenWater. These suits are designed so you get the best support against the elements. Additional thickness neoprene provides calculated warmth  to keep your body at an ideal temperature. High-vis colours are important in the shared space of the open ocean. They make you visible to other swimmers and watercraft such as surfboards, SUPs and boats so keeping you safe.
Triathalon. These suits give pure performance matched to your swim style and expertise. If you've got your technique down then the Natural Swimmer model gives the least additional floatation. It allows your body to perform at its natural best. With added floatation in areas like the thighs the Total Swimmer model helps your body gain technique and so perform in its best performance posture. The Progressive Swimmer model is aimed at the newer swimmer. Floatation is additionally aided so your focus can be on developing technique.

Orca's Triathalon wetsuits come in several different models, two shown here. The Natural Swimmer model on the left provides minimum extra floatation, ideal if you're technique is good. The Total Swimmer model on the right gives extra floatation helping provide maximum technique
FreeDiving. These suits offer a key feature that's the reverse of Orca's other swim suits. They have reduced floatation, so are purposefully made to get you under the water, deep, fast. These suits are for the free dive specialist. They've been designed and tested in collaboration with 18X world record holder, William Trubridge who says they're the, "Best Suit On The Market." features include a special gasket to prevent water entry. Drainage holes so you don't hold water. Infinity Skin, Hydrodynamic Glide and Compression panels for advanced performance. The FreeDiving models also come with a special pair of gloves so as to prevent damage when suiting up.

The Orca Free Diving range incorporates super high tech materials and design
A constant stream of new accessories will both aid your swimming technique and strength while making your time around the pool or ocean more convenient. Swim Paddles and Pull Buoy increase arm and core strength while establishing technique. Thongs and poncho, using Orca quality selected materials, give you the comfort for before and after training.

From building your strength and technique to feeling and looking good around your swim, Orca has an ever progressing range of accessories
Orca Wetsuits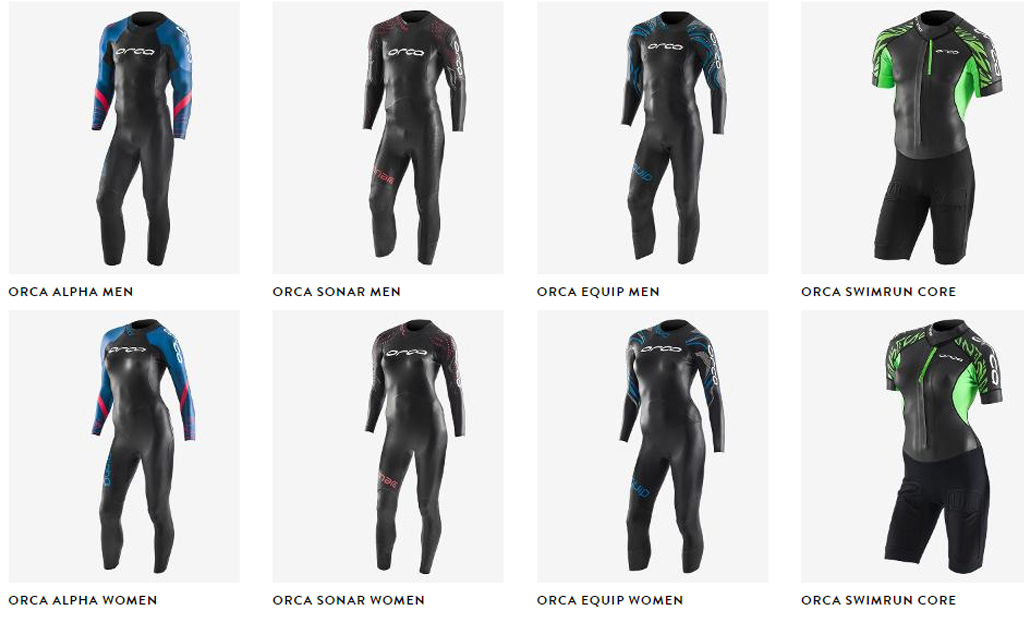 Orca gives you a comprehensive range of wetsuits to cover your elite competition needs through to recreational and casual swimming. There's suits with features and materials to suit your application and budget
Orca wetsuits give you an elite level of performance in swimming and triathlon. They can also be used for any performance water sport. While not designed for surfing, they can be used on your board or SUP. So you get a performance alternative to heavier bulkier traditional suits.
The neoprene used in the Orca wetsuits is much higher quality than that used in surfing wetsuits. Yamamoto neoprene by name is referenced throughout the range as it's considered the world's best neoprene. So by incorporating advanced materials Orca delivers performance not possible with cheaper less technologically advanced alternatives.
For example thinness in your wetsuit equates to flexibility so you get high performance body movement. However thinness by itself, without advanced tech, isn't helpful. Thin neoprene by itself doesn't give you the insulation and warmth to sustain your maximum performance. Thinness, without advanced tech to back it up, will also result in lower durability. Pulling on an ultra thin suit you can easily pull through too-sheer material, have stitching pull apart, or zip pull out. Youre investment ruined.
In terms of technology, the Orca Alpha wetsuit, available for Male and Female, incorporates 0.88mm thickness neoprene. It's under 1mm thick. So you get super light weight, and super flex. Your body isn't carrying any unnecessary weight and you have the most flexible natural movement in your shoulder and arm panels for your stroke. Flex is increased by 250% over traditional neoprene maximising your stroke cadence and reach.

High tech materials give you performance, with flexibility and warmth, so you can perform at your best, going further, faster, longer
The 0.88 material also uses a patented heat reflective coating of titanium so you get great insulation. When the water is cold, and even through summer, this coating keeps you at an optimum temperature. So your body can go farther, faster, longer.
Managing buoyancy is also a big in performance swimming. Too much or too little buoyancy are both performance limiting. The 44 neoprene used in the body gives you the ideal float so your energy goes into your forward speed rather than battling drag through the water.
Drag is also defeated with a super high tech coating on the wetsuit outer skin. The Nano SCS coating reduces friction between your wetsuit and the surrounding water, giving you an amazing 0.026 coefficient of dynamic friction compared to the 4.0 of a regular wetsuit. So you go farther, faster with less effort.

With the right gear you can enjoy your passion all year. With the right gear you can achieve your best
Attention to detail is seen throughout the Orca range, even in areas you don't even think about. For example there's a shorter zip. So you get a more natural fit with extra warmth for your lower back. Also being reversible the zip doesn't protrude against your skin so you get maximum comfort. CLS, Core Lateral Stabiliser, panels and Aerodome bubble tech is used to optimise your swimming posture. Infinity Skin on the your suit interior maximises comfort while aiding getting into and out of your suit. Ideal for competition changes or that fast change needed before work.
These advanced features are incorporated across the Orca range. So you can match your performance need and budget to get exactly the right suit for your style of swimming.
Orca Goggles

The Orca goggle range gives you high end features without the gimmicks. There's performance swimming and hybrid snorkelling models too
Orca swim goggles feature ultra minimalist design. These give you unmatched performance with unnecessary gimmicks stripped away. So you get the smallest, lightest, most comfortable offering.
Super soft ergo designed silicon gaskets reduce bulk around your eyes reducing drag, improving speed and providing comfort. They also give great waterproofing reducing annoying water leaks.
The lenses give you full 180 degree vision unobstructed by an obtrusive frame and supports. This wide field of view is super valuable to avoid the kicking legs and thrashing arms of a competition swim. Ultra Anti Fog treatment keeps your vision clear no matter how hot and hard you go. Different lens finishes manage glare, optimised for indoor and outdoor conditions.
For your head strap, high quality silicon gives durability and great fit with a click buckle for rapid adjustment.
If you're after a hybrid goggle solution that includes all Orca's great features yet customised for ocean conditions and even snorkelling there's an Orca mask just right for you too.
Triathlon & Versatile Accessories

Everything you need to cut the seconds in competition, giving you the edge, and comfort
With its high performance orientation Orca gives you triathlon specific competition products and versatile solutions for your water sports. From Timing Chip straps, to keep your RFID secure and comfy, speed laces saving you minutes, to shoe covers  keeping your toes warm when cycling, all work to give you elite level performance and benefit.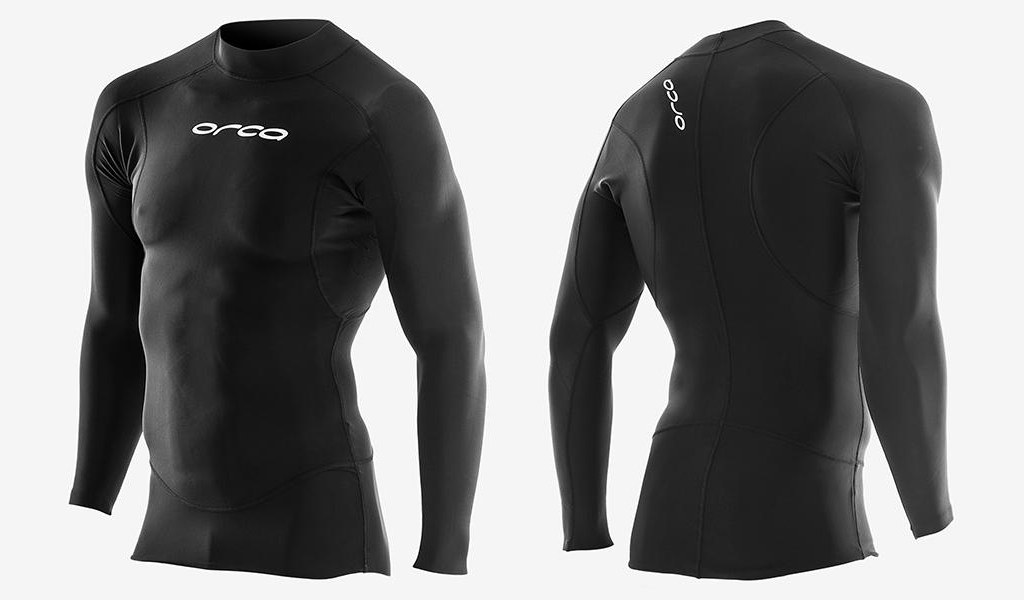 The Orca Wetsuit Base Layer is great for your cold water surfing. With an incredible half a millimeter thickness it's easy to wear under your wetsuit and the fleece lining and extra length give you super snug warmth
Compression products, Race and Total Socks, cover you against injury in your warmup, race and recovery. They use high tech 3D stabilising points and anti-vibration fibres.
A variety of race belts can hold everything from your competition identifier through to snacks and valuables. So they're a great accessory to assist your competition efforts.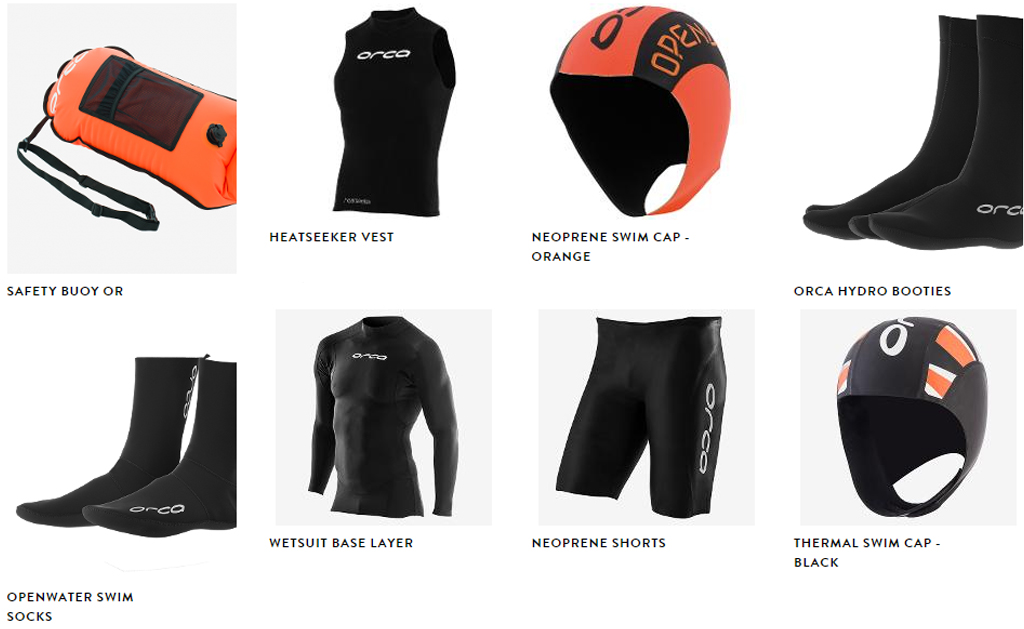 Ever needed a pair of neoprene shorts  under your wetsuit to keep your lower back warm? How about soft low drag booties for swimming? Do you ocean swim and and need a high-vis float? Orca has it all
There's more versatile offerings too. For example Squirt Barrier cream. It protects against rash, moisture and fungus. The Chamois Micro Fibre towel is ultra light and soaks up moisture while being anti-bacterial. There's booties, caps, neoprene shorts, even a high-vis safety buoy for your open ocean swimming. The wetsuit cleaner is super useful. It protects your Orca investment and your other wetsuit and neoprene gear.
Orca gives you a complete range of high performance swim gear. It will maximise your water sport performance, competition, and swimming.
Check our full range of Orca and other Wetsuits at Manly Surfboards>Wetsuits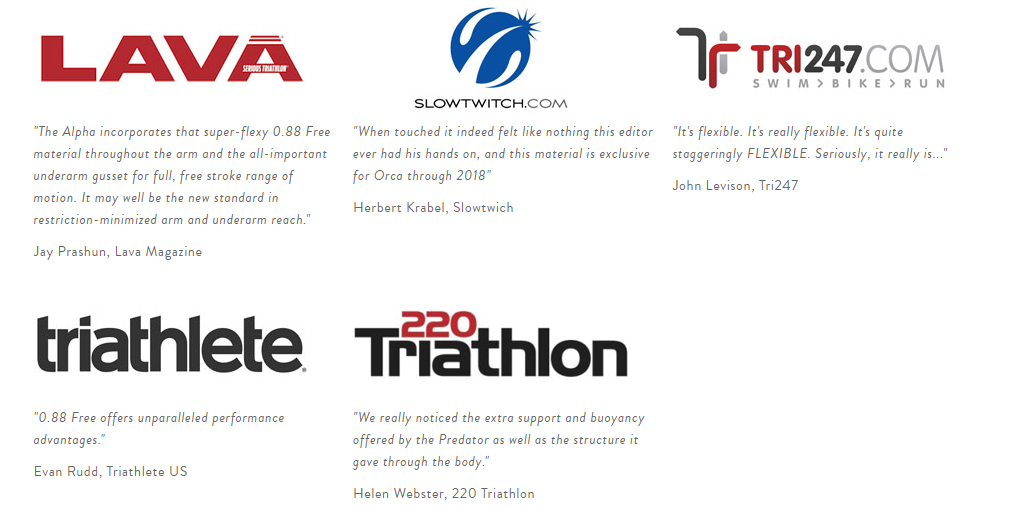 Extensive reviews confirm the results Orca high performance swim gear can give you