Manta Bodyboards
Manta Bodyboards is a foundation brand of bodyboarding. They've created designs and technology emulated by others over decades. With Manta's latest range you're getting refined designs in proven technologies, a solid foundation from which to progress your bodyboarding.
For 2021
Manta's mission for 2021 remains unchanged, to take on the challenges with as much fun as possible. With a reminder of their origins from Cronulla, the heaviest breaks were the best proving ground for great Manta designs. Designs ridden by riders who would go on to claim more than their fare share of World Titles and competition wins. Their designs continue to be proven over time with incremental changes giving you elite performance.

Bodyboarding Refined

On the left one of the original Manta designs from the 1980s next to the latest Manta Skipp Signature Contour. You can see the latest performance this board offers, holding a high speed line
For decades Manta has been a leader in bodyboard design and construction. If you compare early to current designs you can see the evolution. In the detail, the templates, the rails, the way it's all combined, Manta knows what works. So in terms of design and construction from Beginner to Advanced boards, you get no gimmicks. The decks, slicks and cores, are all manufactured so you get the best performance and value.
Manta Bodyboards – Beginner Boards

A selection of Manta's Beginner lineup with a Dart and Sonic. Both with great EPS cores, so you get float, speed, durability and great value
As a Beginner, all bodyboards may look the same. The problem is that all board brands are not the same. So no matter how similar they look it's not possible to tell the quality of a board by simply its look. The materials vary greatly in terms of durability and performance. For example a sub-quality foam core could be inside your board so you can't see it. It will easily bend, crease or break making your board and investment a total write-off.
Some boards are purposefully flexi, to carve in powerful sucky waves. So using this type of board in smaller Beginner waves you'll find you have no forward speed, feeling slow and bogged down. You won't have fun.
Alternatively at the other extreme a board with all the advanced features will not necessarily give you a good ride. Advanced boards tend to have features that give them very specific characteristics. For example some are extra stiff with hard cores made even stiffer with internal stringers. So learning on these boards you'll find you're pushed down the line, going too fast. You'll miss out on learning how to do proper carving turns.
Manta's Beginners boards give you a great EPS core construction. This is a rugged core that is firmer but still flexes. It gives you the speed to get going. So once you're on the wave you can flex the core for controlled turns without over flexing. The HD slick will give you speed and durability.
Manta Bodyboards – Progressing Boards

Progressing models include Manta's Phantom and Drive. These boards have a softer PE core so you get more carving surfing. The flex is balanced with stringers so  you get 'pop' out of turns
Progressing, you've got a selection of designs that include more advanced constructions.  So if you like your EPS board and you're competently doing turns you can go the next step with a stringer. The stringer provides additional recoil in your board. This means that as you come out of a turn the board springs back to its original shape. So you get a two fold boost of speed from recoil and a boost from the board returning to a flat shape, a flat rocker. This is the fastest state of your board.
In this Intermediate range you can also experiment and progress with the two main core types, the PE and PP. These are foams that have different flex characteristics. The PE is flexier. So your Manta with PE will give you the ability to carve more. This is good in sucky powerful waves. The PP is stiffer, this is good for waves where you want to make the barrel or launch off the lip for an air.
The PE and PP models include additional features such as dual stringers. Having two stringers not only gives you additional recoil and performance out of turns, they also help you go on rail. This means you can curve one side of the board into the wave more effectively, the curve matching the wave face making for a good carving turn.
Manta Bodyboards – Advanced Level

The Pro XT PPHD and Black PPHD. Manta's high end models giving you elite level performance
At the Pro level, Manta combines advanced features to give you boards that are super responsive and high performance. For example they're fast and carving. The way Manta does this is by using high quality advanced tech.
PP cores with HD treatment give these boards added recoil and resilience while giving you good value. Combined with the options of a Surlyn slick you get high performance speed and extra durability. Surlyn is the super durable, shape retaining material used on the outside of golf balls.
There's a choice of 2 stringers and mesh. The mesh comes in a diamond pattern and is incorporated on the inside of the board under the slick. It gives additional stiffness to the board, but unlike a stringer, this stiffness is not just length-ways, but across the entire board. The mesh gives your board a finer sense of responsiveness, getting controllable recoil from all your moves.
Manta Bodyboards – Accessories

Manta offers full range of accessories, including some of the most popular fins, through to board bags and leashes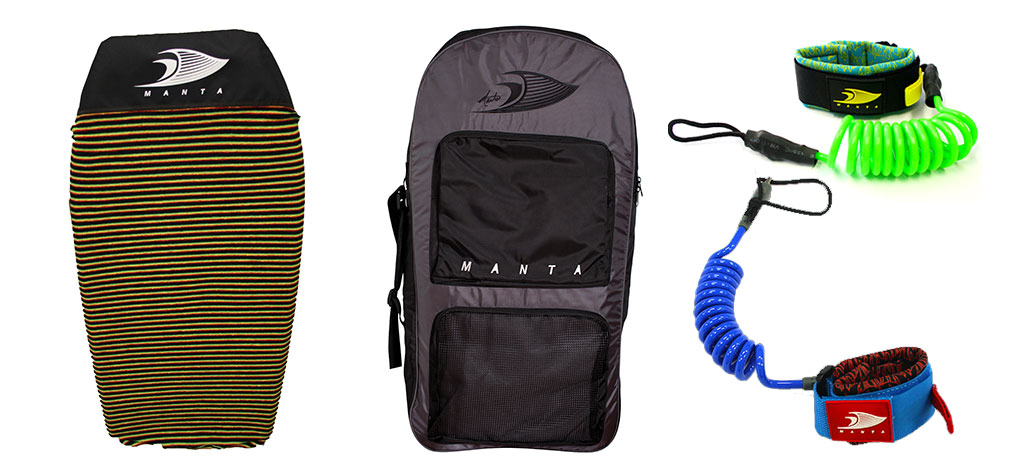 To complete your bodyboarding experience Manta include their proven range of accessories. You have the option of the Blades classic fins constructed of a dual blend of rubber. The footwell is soft while the blade is stiff so you get the balance between comfort and power.
The Clone fin is a technical design incorporating a range of features. The blade area extends out in a circular section adding area so increasing your thrust. The rail edges are extended and defined aiding control. You can use these fins to both generate great thrust and provide rudder control.
There's also easy to use and extended travel board bags, fin savers and a range of leashes covering everything from the entry level to plush comfort and performance.
Essential Bodyboarding
Manta gives you the essential bodyboarding experience. Designs, materials and construction are combined into boards to give you a great foundation for Beginner to Advanced bodyboarding.