Future Fins – Surf Better
Future fins will radically change your surfing performance.
Your speed and style, your whole surfing experience, will change with the right Future fins.
But how do you choose the right setup to progress your surfing? There's such a huge variety of alternatives.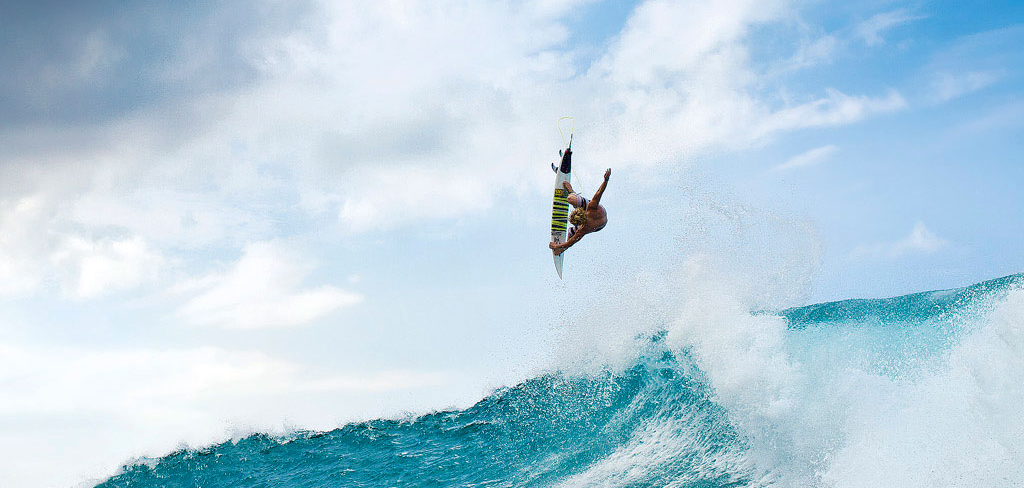 John John Florence. Two time World Champion on his signature model Future Fins. The exact same fins you get in store
Here's where Futures shine.
They've taken the trial and error, the hit and miss out of the equation. They've made getting the right fin as easy as choosing a number.
Your Ride Number.
For 2021
Futures has brought to market a new construction process called Vapor Core. To make the fins as responsive and dynamic as possible, pre-tensioned carbon is layed up. Usually laid over foam, to make the fin ultra light there's no core at all. The fins are hollow. This construction is applied to Futures existing fin models so you can get any of their proven Legacy series in Vapor Core. For example if you want a fin with drive you'd go for the Vapor Core Rake model. A fin to give you more top to bottom surfing would be the Vapor Core Pivot. They're available in the standard Future sizes. So the foil, shape, size of the fin is as you've been used to.

Pre-tensioned carbon over a hollow fin gives Futures Vapor Core super light weight. The feedback is they're also fast, controlled, and very responsive without being skittish

You can take your favourite fins and then get them in the Vapor Core construction. Feedback is that the Vapor Core is fast and noticeably responsive. Part of this may be due to light weight as the carbon is described as an exoskeleton over air. Other feedback describes the fins as giving instantaneous response without unpredictability. Using your favourite existing Legacy fin models in Vapor Core means you'll have the performance improvement immediately available in your existing surfing, rather than having to master a new fin design.
Choose Your Ride Number

Ride Number is a straight forward & easy way to choose your right fin. Numbered 10 to 1, the Ride Number indicates speed and flex, drive and carve
While some people will choose a fin on colour, there's actually a considerable number of scientific characteristics that give a fin its feel. There's too much detail to go into here but Futures has taken all the metrics of all those characteristics and resolved them to a number they give to each fin.

Wide ranging scientific characteristics all interrelate to give a fin its feel. Futures resolve all this & give you an easy to understand Ride Number
Starting at 10 and going down to 1, the Ride Number makes it easy so you can choose the fin for the feel and performance you want.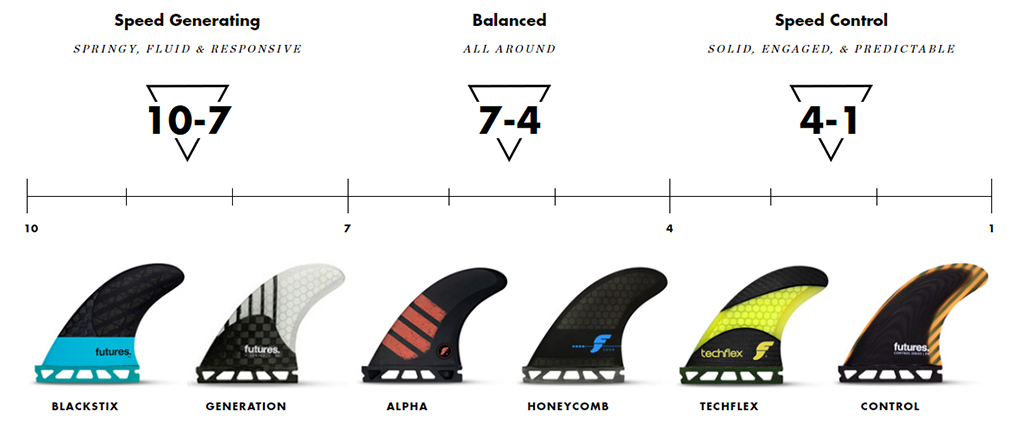 A small sample of the Futures range. Fins with Ride Numbers from 10 down to 1 cater for all you want to achieve in your surfing
10, will give you speed generation. A 10 fin is super responsive. It'll flex with a lively feel squirting you in and out of turns. So you pump, get speed, and feel like you're in a slingshot.
1, will give you speed control. A 1 fin will direct and control wave power driving you down the line so you do longer arcs and carving turns.
Between 10 and 1 there's the middle, either side of 5. Fins with these Ride Numbers will be good all-rounders.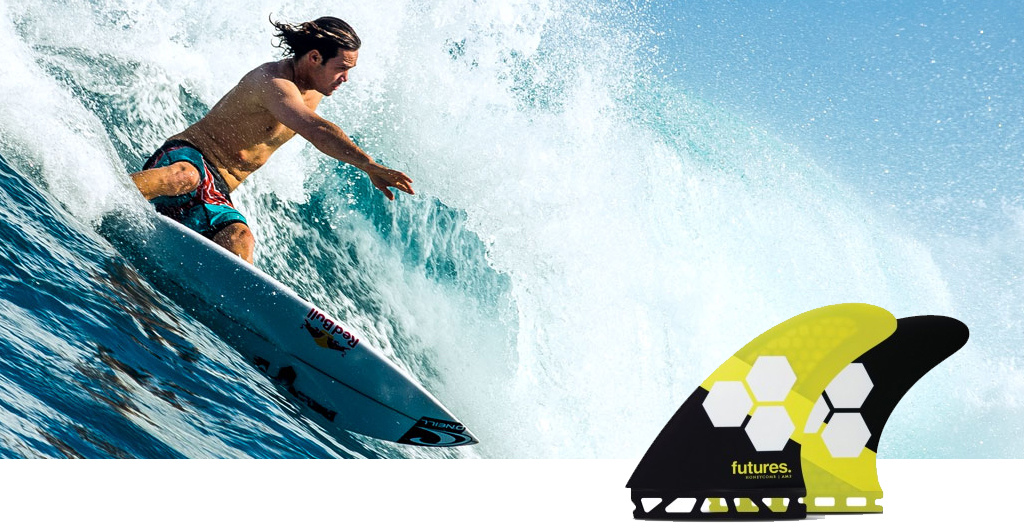 Two World Surf League chargers. Jordy Smith above, Sebastian Zietz below. Both ride the same fin, the AM2, but with different constructions giving different Ride Numbers and different performance. Jordy's going for all round performance with a Ride Number of 4.6. Sebass is stepping up, getting more control with a Ride Number of 4.0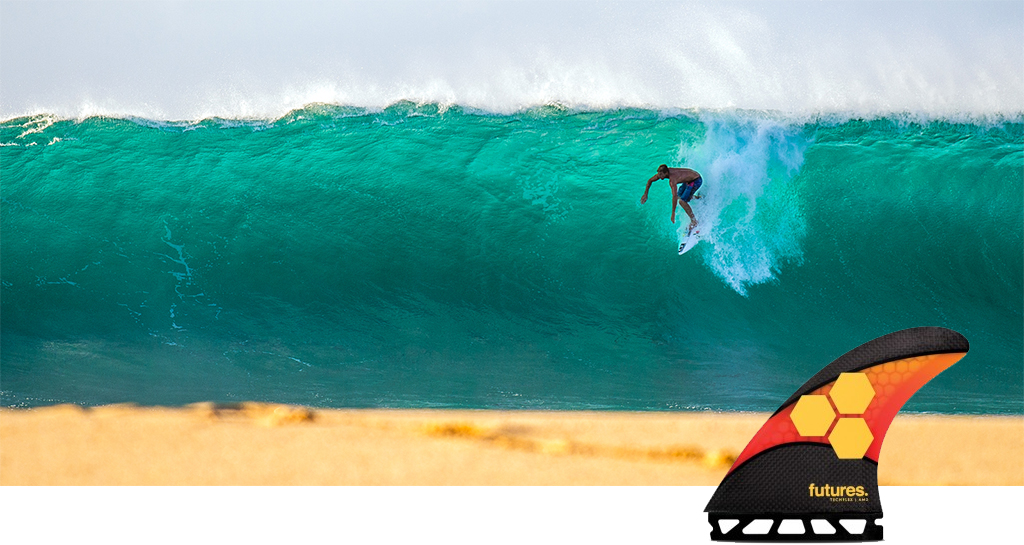 John John Proves It
John John Florence is a great case study to see how well the Ride Number works in getting your fins right.
I know we're not all John John, but it's relative. John surfs against his peers on the World Tour and performs consistently better. In the same way Futures will help you perform consistently better when surfing with your local crew.
John rides his signature Futures Tech Flex model fin. It comes in 3 sizes: Small, Medium, Large. In 2016 he chose to ride the Medium with a Ride Number of 5.5.
John's fin in 2016 with a Ride Number of 5.5 to perform best in all-round waves
What does this Ride Number tell us? It's in the middle of the Ride Number range so should help you surf better in all round surf.
That's exactly what it did!
True To Form
Check the World Surf League, WSL, videos of John's 2016 heats. In most heats the waves were just okay, like the waves we surf most days, not too big, not too small, sloppy with odd good sections.
In those conditions John had the edge over his peers with fins dialed in to perform in those all-round conditions.
The result? Before year end John had won his first World Title on his Futures Tech Flex fins with a Ride Number of 5.5!
Then 2017.
John's coach, Ross Williams, wanted John to display more power recommending a larger fin so John still used his signature fin going for the Tech Flex Large with a Ride Number of 3.7.
What does this Ride Number tell us? This fin will give you the best performance in more powerful waves. Giving you drive and control of the power.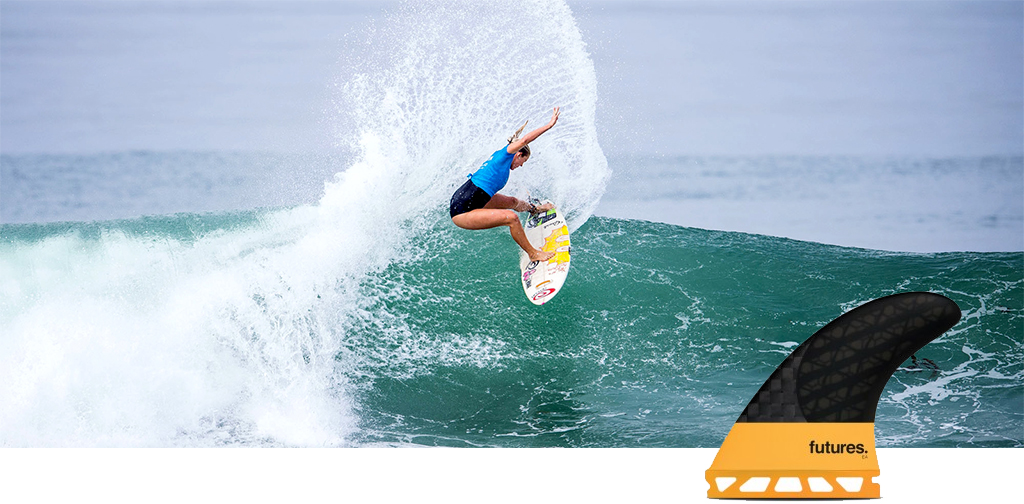 Bethany Hamilton generates her speed with her EA Blackstix with a Ride Number of 9.8, then releases in a big direction change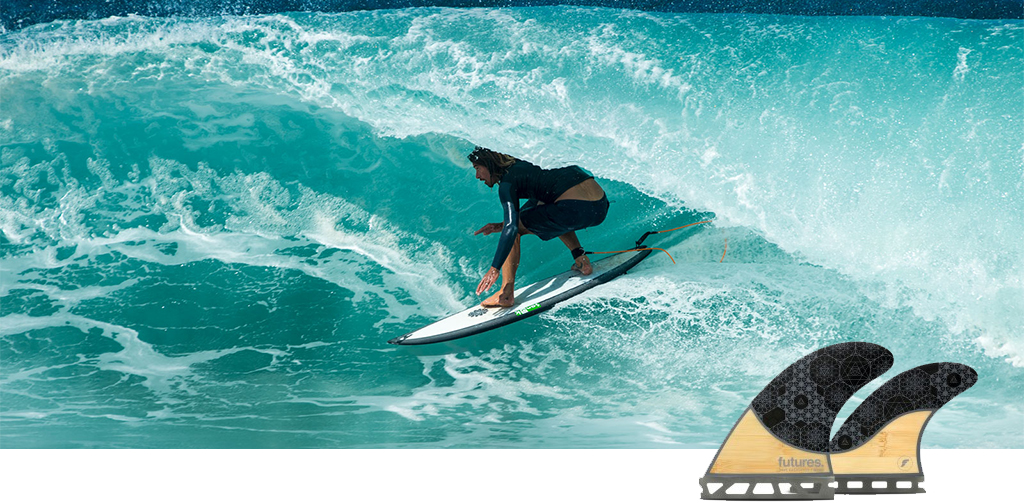 Rasta uses Futures for his alternate-surf style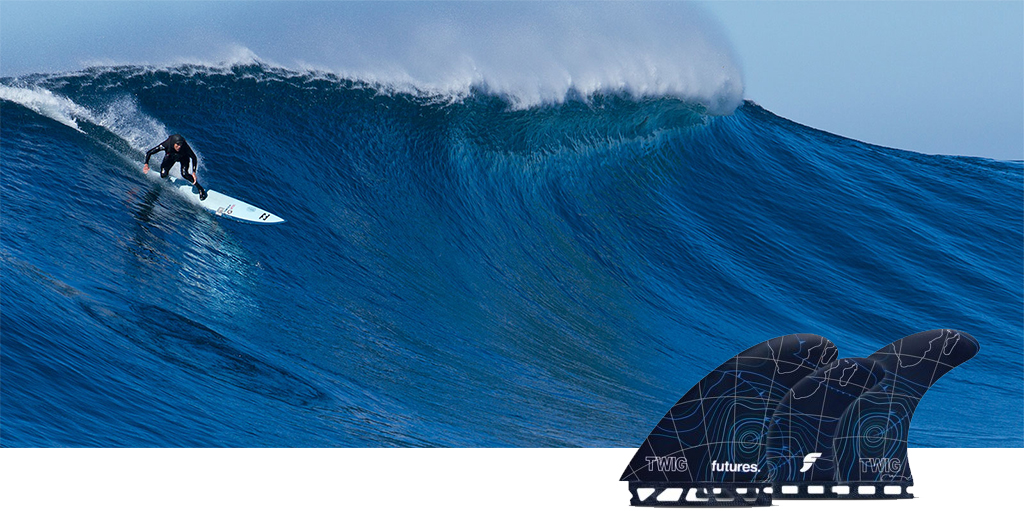 In the big stuff, Greg Long goes with Futures
Check the WSL coverage of the heats John surfed in 2017. The waves were bigger, cleaner, way more powerful. Commentary on John's surfing, especially at Margaret River, describes it as 'next level'.
John had the perfect Futures fin to match the conditions, stiff carving fins to match bigger powerful waves. His power and control were on full display. John won the 2017 World Title.
The Takeaway
John's results show Futures' Ride Number works, it's a proven way to indicate what fin to choose for how you want to surf.
Want speed and want to pump, use a higher Ride Number.
If it's punchy and powerful and you want to carve and control use a lower Ride Number.
When the waves are average and you want to surf your best, use a Ride Number in the middle range.
Futures Innovation

Above Future Fin's Vapor Core is a new construction featuring pre-tensioned carbon acting as an exoskeleton over a hollow fin. Below, Future's Alpha technology breaks the constraints of traditional construction methods so you get a revolutionary ride

Future's is a surf technology innovator.
Their new Vapor Core brings a new construction technology to the existing fin shapes you know work for you. The result? High speed instantaneous response to the feel of fins you already know. Also Future's Alpha material revolutionises fin construction. Futures can fine tune any characteristics any way they want. For example graduating thickness, or adding concave or convex, or changing density, anywhere. Also Alpha material helps clean up the environment, being made from recycled fishing nets.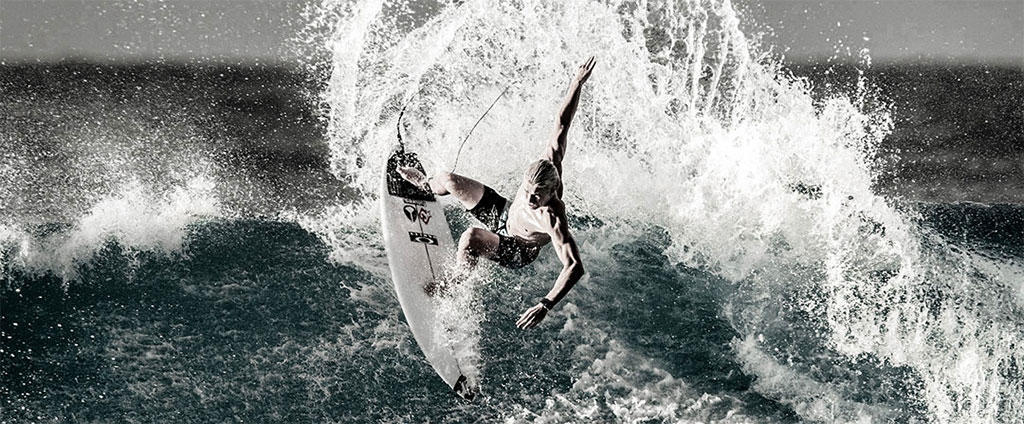 Futures Team Rider Ethan Ewing showing how the Vapor Core gives a spontaneous release of kinetic energy in your moves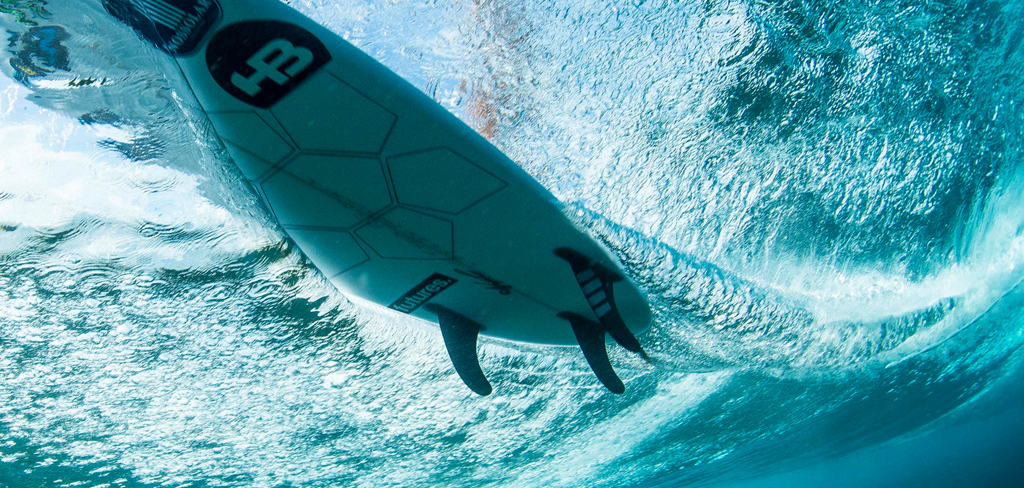 Alpha enables a variety of textures to give bite, release, flow and speed where each is needed
They're no longer bound by the constraints of traditional construction methods.
In addition, Futures can texture their fins. Smooth areas for bite, finely textured for flow, greater texture for speed or release. So you get a fin that delivers revolutionary performance.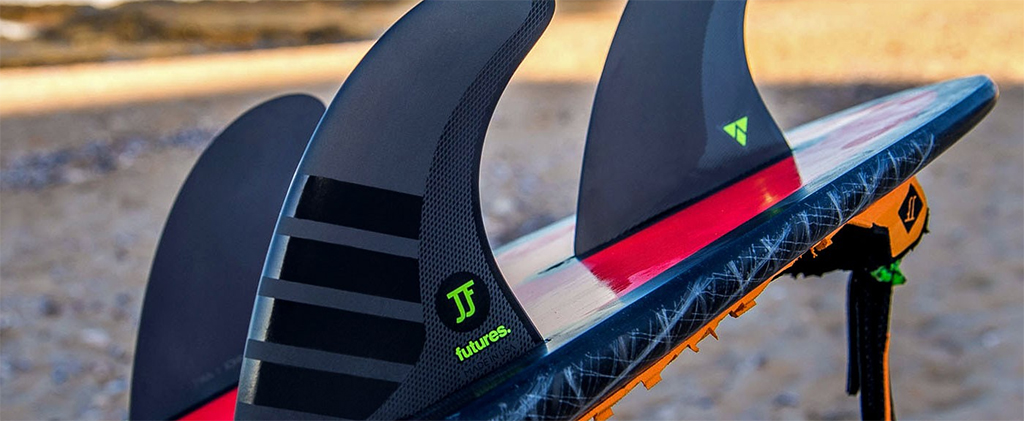 John John also has his Alpha signature version
The Futures range includes fins from the World's greatest surfers, big wave to free surf surfers, shapers and designers. There's great colours too.

The Futures range covers SUP, longboard, Twin, 2+1, Quad, Single – a huge array of fins
Surf better with Futures.
To check all our great Future Fins gear and buy online click here.