FCS Surf Advantage
FCS surf products are tools of the trade for elite level Professional surfers. One of the best ways to progress your surfing is to look at what these Pros are using and apply it to your surfing. From fins and fin systems, grip, to futuristic leashes, using FCS is a proven way to get your surf advantage.
2021 Update
FCS has several innovations worth trying. In the area of your leash their new Freedom series gives you a super minimalist, lightweight and low bulk leash. The cord is super thin so is less likely to get caught up around your fins slowing you down. It's small diameter has negligible negative hydrodynamic effect. The cord though is strong with special over-stretch limiters so your board will return just where you need it. The horn is foam filled, lightweight and shock absorbing. The cuff is also a minimal 2mm thick. It also has special a special inner anti-slip finish to stop it twisting around and getting the cord in the way of your feet. This is the leash that makes you feel like you're not wearing a leash.
With Bonzer and similar 2 + 1 setup boards becoming more popular the FCS longboard fin series is a great idea. It doesn't need any screw to fit into traditional adjustable longboard fin boxes. This means you can change your rear fin position in the water giving you the chance to really fine tune your board and experience aspects of your surfing you've not previously been able to access.

Left to right. The FCS Freedom Series leash makes you feel like you're not wearing a leash, it's super minimalis. FCS II longboard fins use no screw or tool and will fit most existing adjustable fin boxes opening up the ability to adjust your fin position and surfing experience out in the water. The FCS II Infill Kit allows you to continue to utilise your FCS original fin investment in your new FCS II fin boxes. The H Series fins give you new design and new construction optimised for consistent next level performance and speed
Another product to try is the FCS II Fin Infill kit. This kit has small inserts that are installed into the spaces in your FCS II fin boxes if you use the traditional FCS fins. This enables you to keep using the investment of your existing original FCS fins. The Infills also give the bottom of your board a flat surface reducing unwanted turbulence. Also worth a check is the H series fin. These bring several innovations. Their shape is an evolution of existing designs to generate absolute speed. The construction material of unidirectional carbon fibre so all the flex energy is directed into speed. No energy is lost. The construction process also ensures each fin is super accurately manufactured ensuring you get true performance.
FCS Surf Full Suite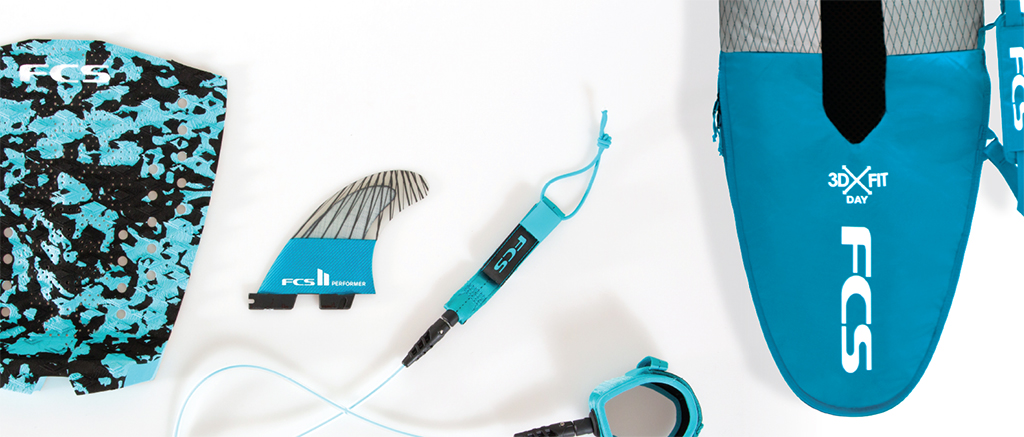 Used by elite Professional surfers, FCS has everything you need to progress your surfing
Though FCS stands for Fin Control System, there's a full suite of solutions to better your surfing. The FCS II and Traditional fin systems provide unmatched fin management. FCS leash products keep your board with you through all the waves you'll face. Likewise there's FCS traction to give you performance for every board you'll surf. When you want to get around, their travel gear is renowned for its functionality and quality.
Let's look at how FCS helps your surfing.
FCS II Fin System

The Essential FCS II fin series designed to give you optimal performance in every type of wave

An amazing system, FCS II does away with 6 screws, tools, and messing around, allowing you to experiment instantly getting your fins in and out to find your optimal setup
The FCS II system is amazing. FCS has taken a previous inboard plug system requiring six screws, a tool, and time, and reduced it to zero screws, no tool and instantaneous installation of  your fins. So you don't need a hex key, you don't need to be on dry land. You can insert and remove your fins by hand, and do it in the water if you want.
In this way you can instantly experiment, swapping out fins for your day to day surfing or big or small days. FCS gives you super versatility and convenience making it easy to optimise your surfing setup.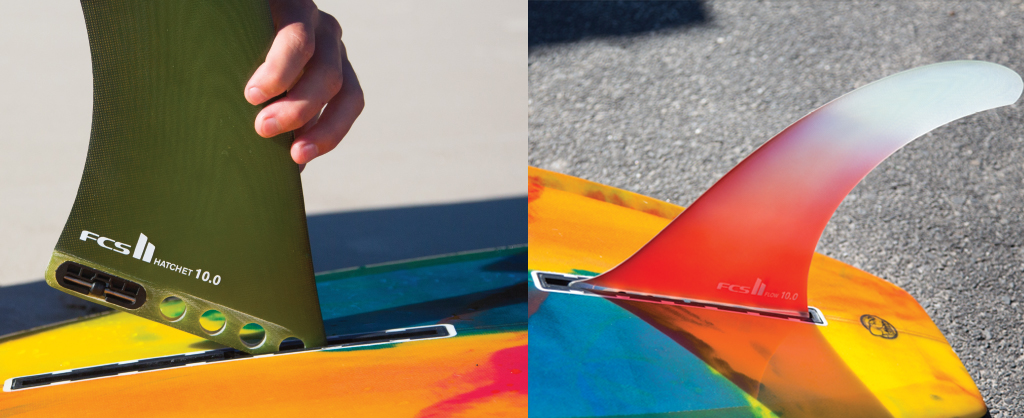 The FCS Longboard system is even more amazing. Incorporated in the fin it fits in almost any longboard rear fin box, needing no tool and can be adjusted by hand. FCS innovative fin designs will drive your surfing further
The FCS II system for longboard fins is even more incredible. There's no special plug system needed. Their FCS II fins work in almost any longboard central fin box. There's no hex key involved, you don't need to be on dry land. You can insert and remove your fins instantly by hand, adjusting fin position as needed even in the water.
This is an incredible ground breaking advancement for your longboarding versatility and tuning.
The FCS II fin range is comprehensive with fins to match every type of wave you surf and boards you ride. They offer you their own fin designs and those from their Team, the world's top surfers, as well as those from the world's best shapers. FCS has made it so this incredible new system can also use your old FCS traditional fins too.
FCS Traditional Fin System

The FCS Traditional fin system is still going strong in everything from softboards, longboard Side Bites, and entry boards
Rather than ending the original FCS plug system, FCS has refined it. It's more robust, lightweight, and inexpensive. A huge number of board manufacturers use this ultra reliable system to provide fin management. If you've used a longboard with Side Bite fins, Softboard, or entry level board, you'll know with FCS plugs fins can easily be replaced if damaged, removed for transport, and switched for optimal surfing and fun.
Leashes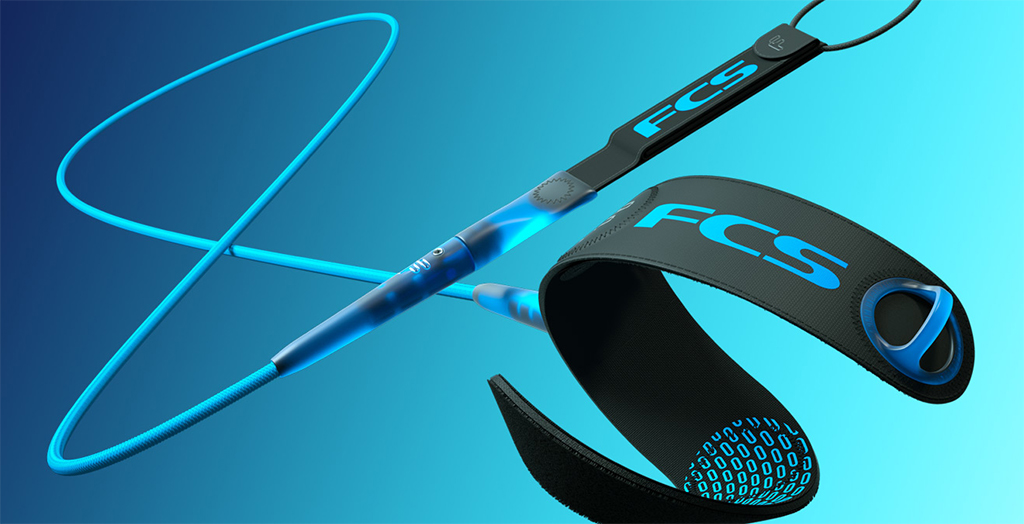 Innovation, style, functionality. The FCS Freedom leash
Not content to just continue improving construction quality, FCS has revolutionised leash design. The key aspects of a leash are to provide security in cord strength and return spring, cuff comfort, and performance via no tangling. That's exactly what the new FCS Freedom leash does with super minimalist style. It's highly functional, light weight, less bulky, so you get all the benefits without even knowing it's there.
In their core leash range FCS pioneered the use of the  fin system hex key to componentise their accessories. Their leashes have their high quality components such as the cuff, swivels and cord, all integrated via the hex key connection. This is super handy as if the cord breaks or cuff wears you can easily remove them and reuse the working components as needed.
So while giving you innovative new products on one side, FCS continue to upgrade the quality and longevity of the products you use day to day.
FCS Surf Grip

Grip for narrow, hybrid and wide tail boards
Your surfboard traction preference is highly unique. To make sure you have the widest range possible to match what you want FCS bring formulas proven by numerous Team Riders each with their own design ethos.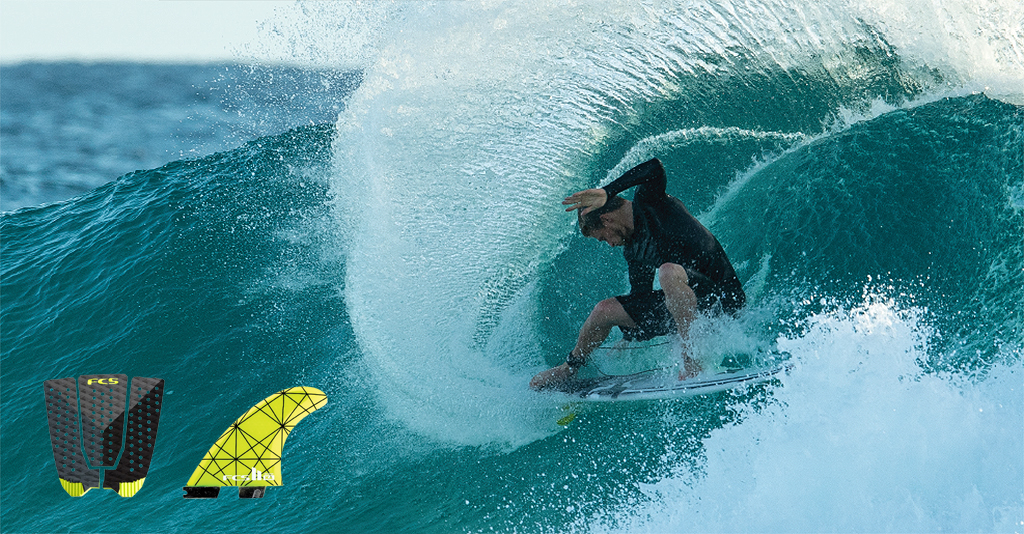 Kolohe Andino says- 'I move my back foot around a bunch when I surf, sometime I even stand on the kick when I'm turning, so everything on this pad has been designed for balanced movement then grip'
Kolohe Andino's grip is designed for movement, he moves his foot around, even placing it on the kick. So if you're like Kolohe FCS has a grip to give you freedom of movement as your top priority.
Jeremy Flores' grip is designed for sensitivity. So if you're like Jeremy you want to feel close to your board. Jeremy's FCS grip with grooves will give you a pad as thin and responsive as possible.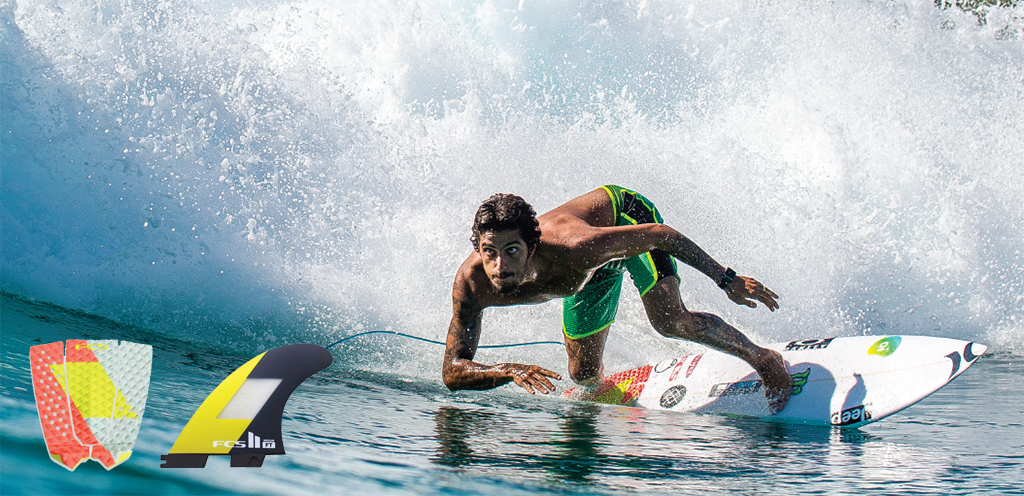 Filipe Toledo says – 'Whether  you're pushing hard through a turn or launching off the lip, my pad is designed to help you feel connected'
Filipe Toledo's grip is about maximum traction. So if you're like Filipe, when landing airs you want your foot to stick even if off centre. When driving, pushing hard for speed, if you want maximum stick FCS has the Toledo pad for you.
Along with these elite level solutions FCS own model grip has ideal fit for your narrow, hybrid, and wide tail boards. So you get maximum traction powering your surfing.
Board Covers

FCS board covers include no rail seam, indicated by the red lines, and dual density foam coverage. This damage prone area has been fully addressed with complete exterior and interior protection. The arrows indicate the innovative stretch panel that keeps the cover tight expanding for board width & also functioning to vent moisture and heat
Improving on existing designs FCS addresses problems you've experienced in other boardbags.
Their Essential Series has a unique 3D Fit solution. Its panel construction removes the seams from the rails. Then, inside the cover, dual density contoured foam runs entirely around your board. So you get continuity of protection around your entire board.
Not all boards are the same width and you don't want that extra area in a too-big board bag flapping around. To keep your board cover fitting snug a stretch panel runs along the cover middle so wide and narrow boards both fit just right. This panel also provides breath-ability so moisture and excess heat exit, keeping your board in great condition. This cover is also light, claimed to be lightest.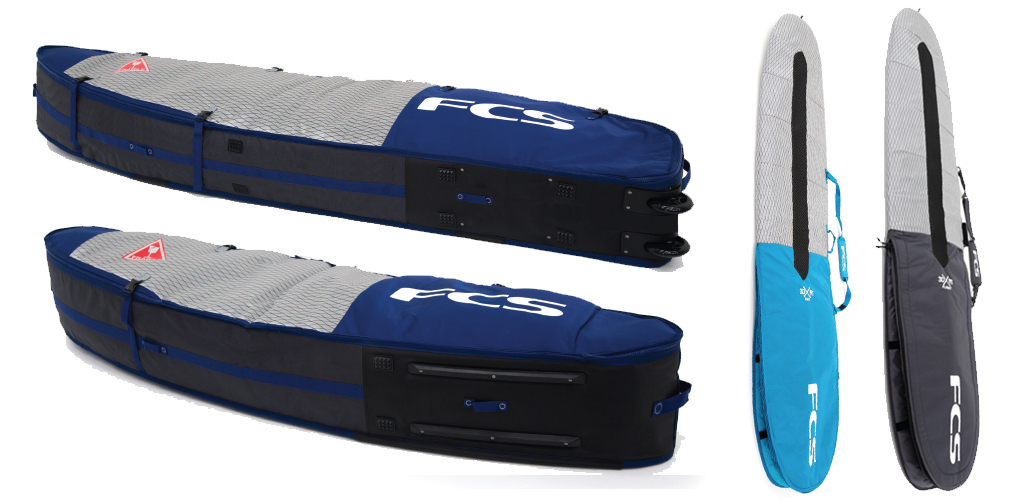 FCS covers such as their Travel Series, and their travel gear like backpacks and trolleys, reflect constant upgrades and attention to detail that keeps your gear safe on the longest, most arduous journeys
FCS Surf – The Full Suite To Progress

Too many products to show. Everything to keep the sun off you, to keep you warm, fine fin adjustments and more
The leading Professional surfers on the World Tour use FCS and and you use it too to get your surf advantage.