Creatures of Leisure
Creatures of Leisure surf accessories are great. They keep you performing, keep you surfing, and keep looking good through everything you and the ocean throw at them.
The Creatures philosophy is simple – best quality, best design, best result.
Only the best quality components and materials are used. Their products are high performance, pro style, and durable. They come mostly with multi year warranties.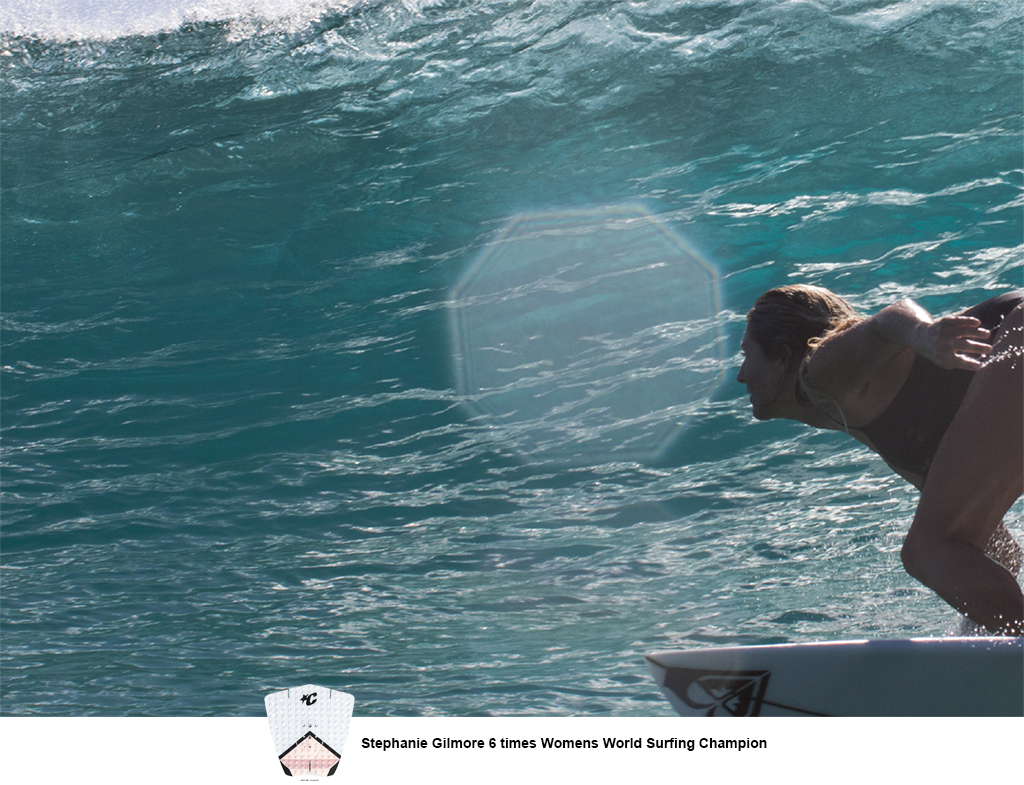 Progress your surfing. High performance, pro style, long lasting surf accessories. Creatures of Leisure
So you get great surfing and long life from your Creatures surf accessories.
The Creatures range is comprehensive so every aspect of your surfing gets benefit. Tangle-free leashes, super-traction grip, Surf Ears protection, lightweight super durable board bag protection, auto accessories, and accessories you didn't even know you need! They all work together so you get the best surfing life.

A sample of Creatures extensive range benefiting every aspect of your surfing life
Creatures 2021 Gear To Check
Covering a vast range of accessories Creatures has cool gear to check. What's interesting are the wetsuit bags. These come in two formats, one like a backpack and the other more utilitarian. The Creatures Transfer Dry 25L Wetsuit Bag isn't just for your wetsuit. It's a full featured back pack with sections for your laptop, mouse, phone, and pockets to hold whatever you need. On top of this it's waterproof. So it if rains or your boat gets swamped or the tide comes up your gear won't get wet. Alternatively if you place wet gear inside, like your wetsuit, the wet won't leak out. The bag isn't sticky plastic but waterproof treated canvas. Compared to this, the Creatures Wetsuit Bag Clear is PVC and very plastic-like. It has no pockets, no fancy features, not even a zip. It's like a tube you fold over at the top to seal. The seams are also sealed so whatever you put inside, along with its liquid, won't be getting out. Being clear you can see at a glance if your wetsuit is inside.

Left to right. Creatures Transfer Dry Wetsuit bag is a full featured backpack for your laptop, phone and gear constructed of waterproof canvas. The Creatures Wetsuit Bag Clear is utilitarian, like a tube, there's not even a zip and it's sealed by being folded over. PVC construction and water proof seams keep its contents from leaking out. The Fin Puller is super handy to give you speedy and safe removal of your fins. The Creatures Tail Block gives you a great kick to jam against for big moves, at half the price of a tail pad
Another interesting product is the Fin Puller for FCS II & Future Fins. This device saves you time and from the potential disastrous problem of damaging your board while trying to get your fin out. For both FCS II and Future fins the device simply slides onto the top of the fin then gives you a leverage point from which to lever your fin out. This happens easily, speedily, safely. There's all rounded corners so no sharp edges to dent or hole your board.  Another great product is the Tail Block Grip. This has been done before, it's a great idea, but you can't find them anywhere except with Creatures. One of the Tail Block's best features is that they're inexpensive at around half the price of a normal tail grip. They also do almost the same job. You get the kick, the part of the tail pad that sticks up that your foot jams against to do big moves. You also don't get the pad in front of the kick and this gives great sensitivity to be able to feel your board and direct it most dynamically where you want.
How is Creatures better?
Patents, granted and pending, are an official acknowledgment that Creatures products and designs are unique, more useful, a better way of doing things. A patent also means Creatures brings them to you exclusively.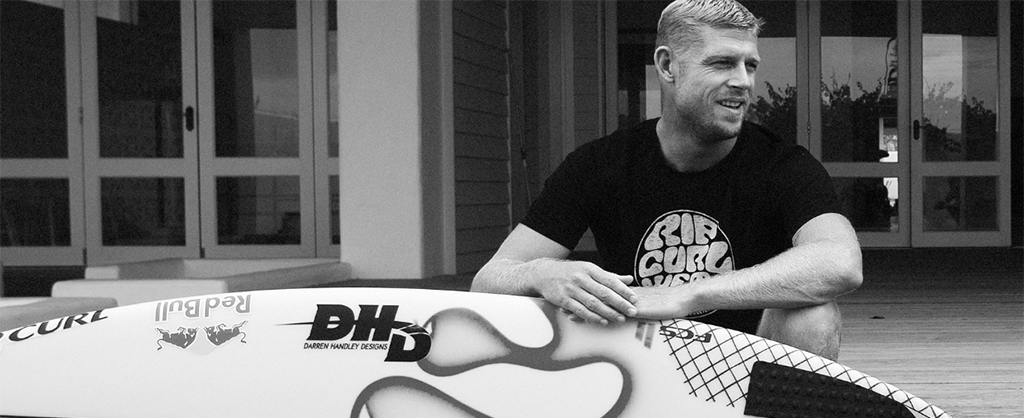 You benefit from Mick Fanning's role in ownership. It brings decades of experience of what works at the highest competitive level, including what works to win 3 World Titles
Mick Fanning has a major role in ownership. So when you use a Creatures product you're surfing with features and functions refined from decades of competitive surfing experience. You directly benefit from the extensive insight it took to win three World Titles.
Full featured warranties, many of them multi-year, mean you get more life out of, and more safety, from your gear. So you've got a brand that stands behind you.

Creatures Surf Ears 2.0 an innovative refinement protecting you and your long term surfing
Creatures are innovators. If it doesn't exist they'll make it. Based in Western Australia they found existing legropes from other brands couldn't stand up to their local Yallingup conditions. So they created their own, the world's first urethane injection leash. It's the foundation of all modern leashes and you get the most advanced benefits from its creator, Creatures of Leisure.
Creatures of Leisure Patents & Features
How does Creatures better your surfing?
There's a Patent Pending on their DNA Flex Mould. So what makes this useful?

Patents granted and pending acknowledge more useful designs
It's an answer to the problem of leash breakage, an answer no one else has come up with. It strengthens your leash at its weakest point, where the cord joins the cuff and rail saver. So your Creatures leash survives bigger beatings, lasting longer, saving dollars, saving you and your board from potential disaster.
There's the Non-slip cuff. A pending patent, gives you comfort as there's no abrasive rubbing on your leg. Equally important, it prevents the leash cord moving, a major cause of tripping. So the chance of a fall and nasty wipeout are greatly reduced.
The Stainless Steel Bearing Swivel, now common to all leashes, is also another of Creatures' world firsts. Their latest version is better, self lubricating so is always spinning. You won't blow a wave because of leash tangle.

You get the lightest board then stick a heavy water-soaking grip on it, how does that make sense? Creature Lite grip and lighter leash velcro maximise your lightweight performance
Integrated Products Mean You Surf Better
While 's a huge amount of technology goes in to giving you the lightest board, what happens when you stick a heavy water-soaking grip on it? That lightweight benefit is lost. Creatures of Leisure Lite is grip that's light. It's less water absorbent and also rash reducing. So adding it to your board enhances your light weight and high performance.

Creatures Lite grip and lightweight gear gives you maximum surfing performance from an integrated suite of products
Why not also make your leash light too. Leash Lock is Creatures marine grade ultra light Velcro, much lighter than traditional Velcro and 50% stronger. It's noticeably higher quality and makes it pretty much impossible for your leash to come off your foot until to want it to.
So matching Creatures Lite grip and light Leash Lock leashes gives you lightweight high performance surfing.
Go the Distance with Creatures of Leisure
Diamond-tech is another Creatures exclusive. It's a purpose designed material to give your board the best all round boardbag protection. Diamond-tech boardbags are lighter, UV and high temperature resistant, hydrophobic, super durable and abrasion resistant. They do everything they can to protect your board, your biggest surfing investment.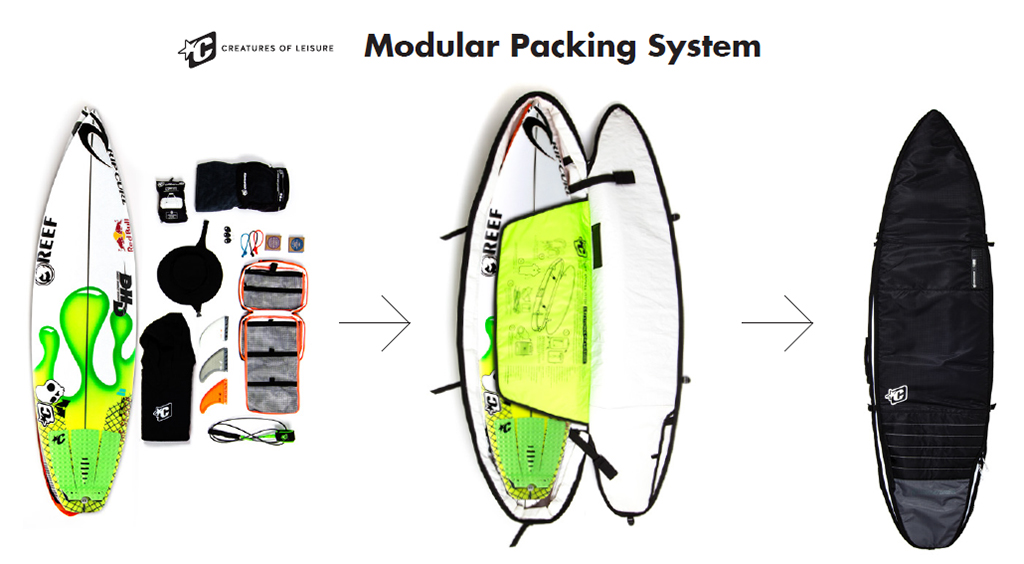 The secretive Diamond-tech material on the outside, exclusive to Creatures, is matched to the Modular Design System on the inside. Better, durable, easy

Diamond-Tech material exclusive to Creatures
When you want to enjoy waves traveling, turn board carrying from a chore into a joy. Diamond-tech multi board bags, wheelies, and the Modular Packing System radically change your travel experience. The Modular Packing System is another Creatures innovation. It's a set of straps, pockets, and layout on the inside of your board bag. This design and approach makes packing, unpacking and accessing all your surfing gear super easy.
Creatures of Leisure – All Your Surfing Needs
Creatures  of Leisure quality is pervasive and brings benefit to every aspect of your surfing.
Look closely and you can see depth of detail, depth of quality, the depth of innovative design in everything they do.

Look at any Creatures product. You see depth of detail, quality and innovative design, that works better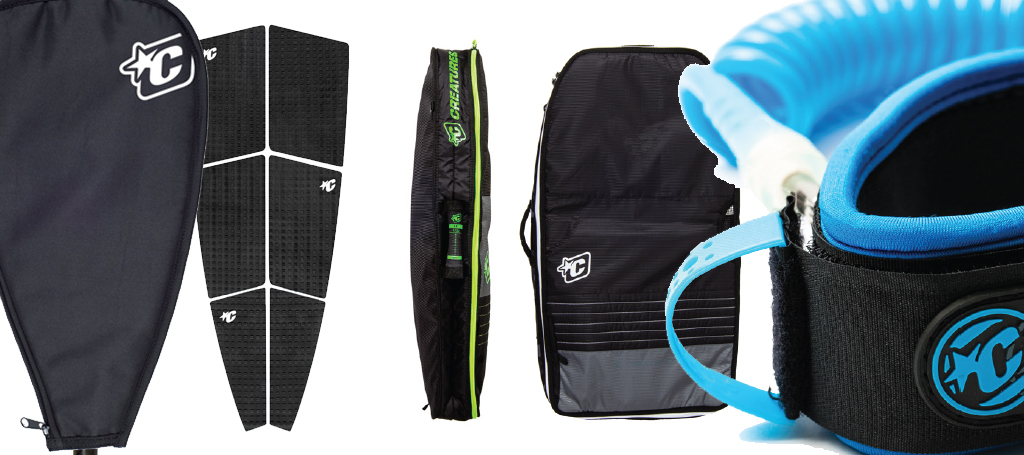 Bodyboard, SUP, and surfing. Creatures' surf accessories for you, your family, your whole surfing life
There's so much more to Creatures' product set that we haven't mentioned here. Whether it's other surfing like on your SUP, you or your kids bodyboarding, Creatures has it all covered. Their dedicated SUP and bodyboarding products are feature rich just like their surfing gear so you get the best surf experience.
Maximise your surfing with the best surf accessories from Creatures of Leisure.